ACTEM Conference Sneak Peek: Scoop.it
We're off tomorrow to Bangor, ME, to present at the annual ACTEM Conference. I am presenting with the lovely Susan Barrett Hyde on the subject of web tools for scaffolded assignments. I hope to subdivide the general scope of the presentation into several blog posts to tide me over into 2016, and I thought I'd start things off with one of the tools I found myself using quite a bit, two or so years ago.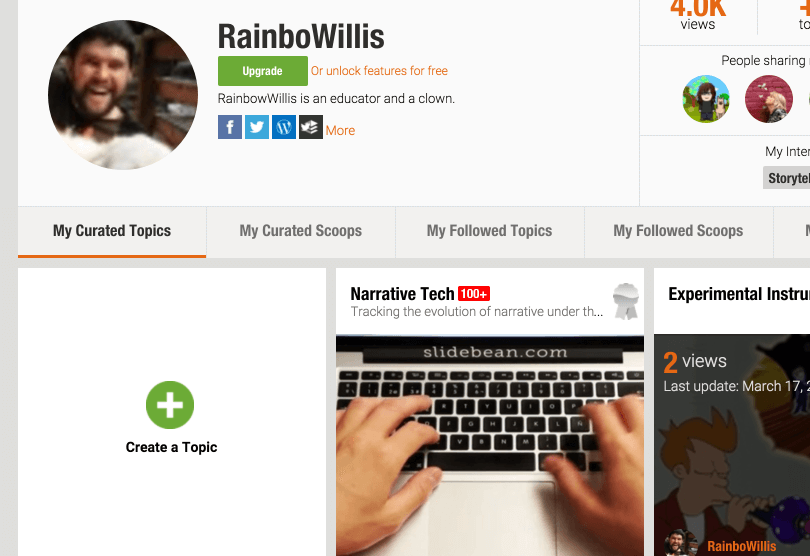 The tool is Scoop.it, and its angle is that it provides users with an attractive, full-featured-yet-easy, magazine-style (mouthful!) curation space. Much like Pinterest, users subscribe to one another and good curators are rewarded with likes and new subscribers. The difference between Pinterest and Scoop.it is that the "pins" of the former emphasize the visual elements of what is pinned and de-emphasize any textual observations made by the curator, whereas the "scoops" in Scoop.it deemphasize the visual elements of the scooped article in order to draw attention to any observations, rebuttals, admissions or additions made by the curator. Additionally, attribution chains of scooped and re-scooped articles are clearer to follow, rendering in Scoop.it a more scholarly environment than what I've found in any of the other curation tools I've tried over the years.
The topic that I curated for about a year grew pretty significantly in readership over that period–I had about 3,800 viewers, before my interest ran dry and I left the topic for another. At the height of "Narrative Tech," I was subscribed to all the other transmedia and narrative technology buffs in Scoop.it, and each of us was pulling from our own customized RSS and Google Alert feeds for the pool of possibly interesting (likely not) articles on our subject of interest. We held conversations in the comments fields below each others' scoops and began conversations with our own insights rendered upon our own scoops. I learned a ton about narrative technology and transmedia storytelling from the experience, and developed a resource network that far exceeded that which I'd started with.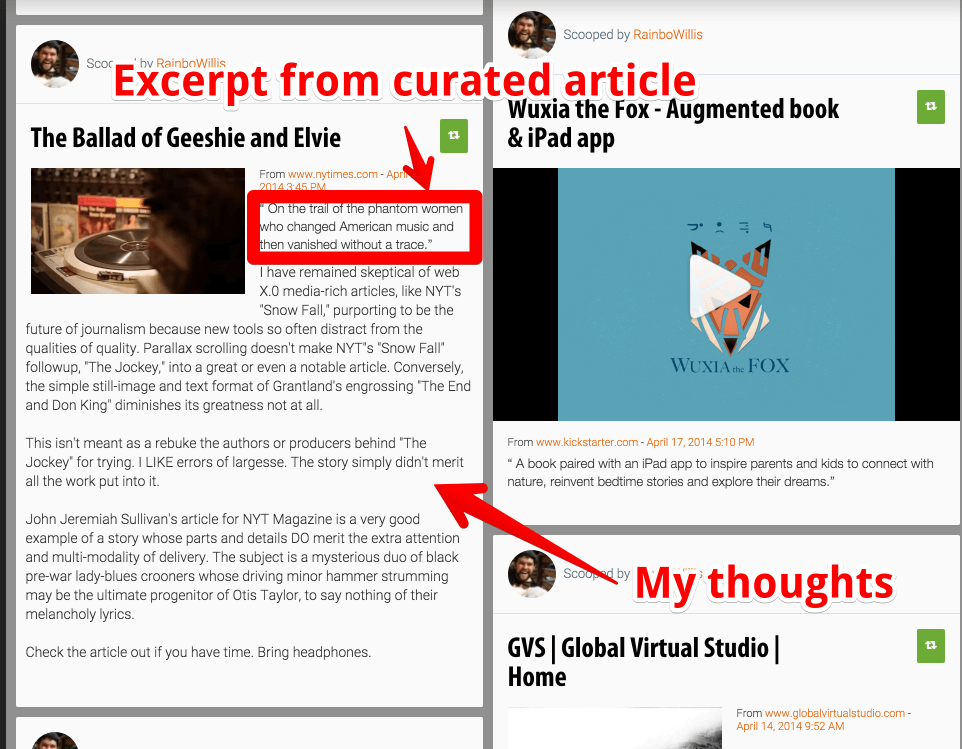 Topics appear as magazines, and many Scoop.it users run their topics like standalone blogs. Note above the extent of my thoughts on that one scoop, especially in comparison to the relative brevity of the article's excerpt.
The reason I will be showing teachers Scoop.it at ACTEM tomorrow is twofold. One, it is a brilliant research tool that can quickly explode the number of sources you enter with. Two, it adroitly displays the give-take nature of research, which is far too often taught entirely as a state of absorbed spectatorship. Scoop.it is like a bookmarking tool that immediately requires the researcher to share his/her thoughts on the scooped resource, sometimes and sometimes not stirring a response from someone else interested in the topic. Scoop.it can be an excellent tool to introduce early in a writing class where students are encouraged to research the same subject for the entire semester. Early on in the process of learning Scoop.it, the experience is teaching students about what it means to make and share observations in the midst of researching and building a network of relevant resources. By the end of the course, their pool of resources is established, complete with (hopefully) connections to other researchers in the field.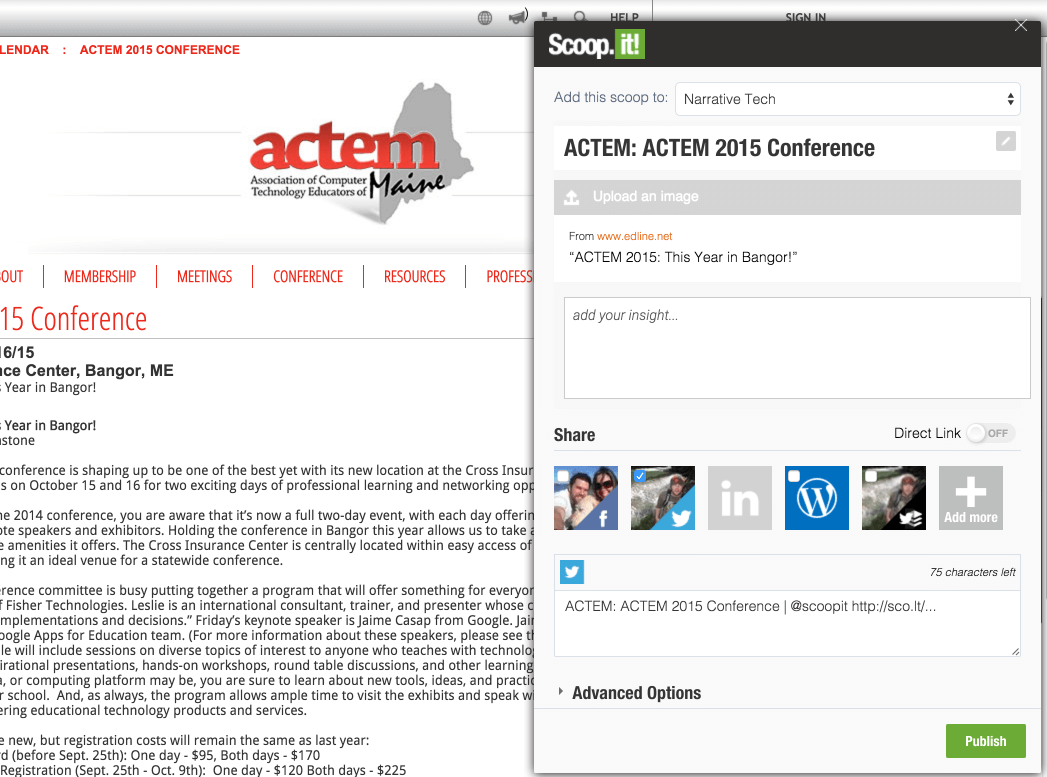 Foundational to Scoop.it and its integration into the classroom is its ease of use. With the bookmarklet, it is simple to find an online resource and then…well, scoop it. The pop up dialogue window immediately allows the user to pen his or her observations, and it's as easy as checking and unchecking boxes to control where else in the social network sphere where the scoop will be immediately shared. It is easy enough, I've found, for faculty and students to pick up rather quickly.
Tags:
curation | Events & Conferences | IDS | Instructional Design | research | tool
---