#HITedu Chat: Engaging Patients in Mobile Health Design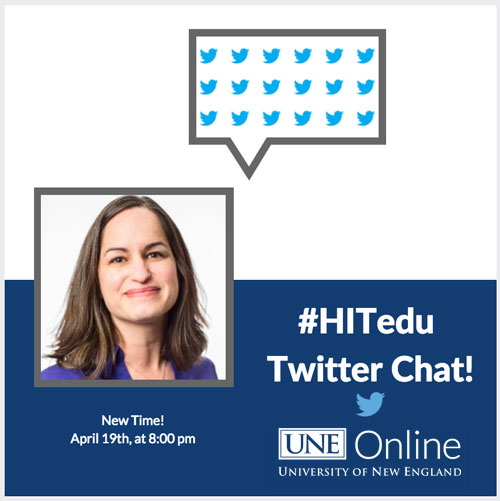 Mobile health applications, part of the larger e-health movement, are programs uploaded onto mobile devices like smartphones or tablets.
Providers use mobile health apps for things like clinical decision support, to reference or research information, and monitor, follow up and communicate with patients.
Patients use a variety of mobile health apps including those prescribed by their providers and those that help them manage their health independently. It's a growing segment of the health IT market. Mobile health applications captured $1.3 billion in global venture capital funding this past year, much of that spent in the US.
Regardless of all the hype and investment, patient engagement and effective use have been slower than many expected. Many of those involved in the development and use of these products feel this could be because the patient's voice may not be well integrated into the application design.
Meet our Twitter Host: Elizabeth Zampino
Elizabeth Zampino is an Adjunct Faculty member for the Health Informatics Graduate Programs at UNE Online. Before joining UNE, she held a number of relevant positions in information technology, research, health education, patient engagement and mobile health application design and adoption.
With an undergraduate degree in Information Science, she started her varied career working in information technology. Then after a cross-country move, she took a job at an ambulatory care clinic. "This really sparked my interest in healthcare and patient engagement," she said. "To marry my IT background with this new passion, I enrolled in a graduate degree program in Clinical Informatics and Patient-Centered Technologies at the University of Washington."
Following completion of her master's degree, she worked as a business analyst for a startup mobile health company that offers a clinically validated patient engagement platform designed to engage patients in digital treatment plans. "It was a small company, therefore I was given the opportunity to wear many hats, anywhere from a project manager, to design and platform testing, to research and how best leverage patient engagement principles."
She pointed out that much of her research on patient engagement best practices lacked the involvement of patients in the design and development of 'patient-centered' health IT. "This really frustrated me," she said. "In order to design effective mobile health technologies, developers need to fully understand what the patient values, and get patients involved in the design process early and often. I believe the best way to do this is to collaborate with patients, not executives."
Elizabeth advises application developers to involve patients up front in order to design a product that meets their needs. "Most developers, unless they have deep personal experience as a patient, don't understand what is important for the patient to see or how to organize the information." She emphasized the need for simplistic design and concise, research-focused information written and presented in a way that does not overwhelm the patient.
Here's what Liz talked about during our #HITedu chat
In what ways has the use of mobile health improved the lives of patients or caregivers? Examples could be better outcomes, decision making or access to care.
What about the negatives? For one: has communicating through mobile tech hurt the doctor-patient relationship?
What does patient-centered design for mobile health mean to you, and how have you seen it applied?
How do we better engage patients in the design of mobile health apps? Could examples be gaming or clinically validated research?
The most used mobile health apps target those with serious or chronic illness. Should we try to engage healthy users in order to support preventative care?
Mobile health is growing and well funded. Where do you think future resources should be spent, and to what end?
Elizabeth (@lizzampino on Twitter) and the Health Informatics program at UNE Online (@UNE_HealthIT) talked about these topics on April 19th, 2017 using the hashtag #HITedu.
Resources for pre-reading
---
If you are interested in pursuing your Master's or Graduate Certificate in Health Informatics, or even if you're simply interested in discussing either program, please reach out to an Enrollment Counselor at (855) 751-4445 or via email at informatics@une.edu. We look forward to hearing from you! 
Tags:
Graduate Programs in Health Informatics | Health Informatics | Twitter Chat
---