Meet our Team: Maria Theisen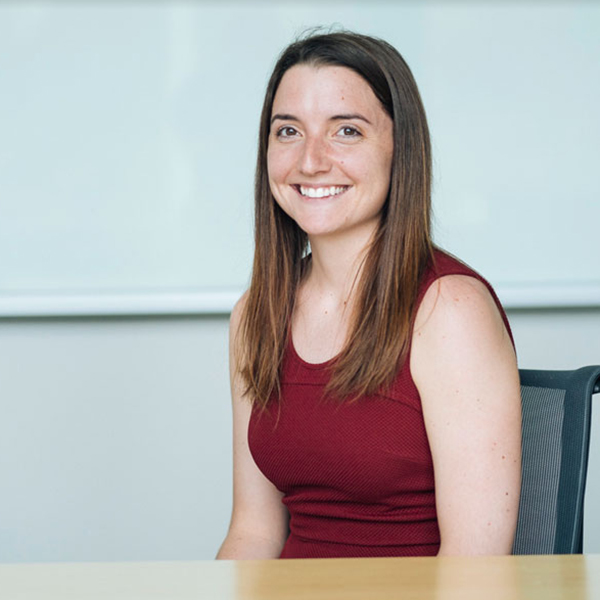 Meet Maria Theisen, a Student Support Specialist for the Master of Social Work degree program. Maria joined UNE in the Fall of 2016 and has a background in event planning and college admissions, as well as extensive volunteer work with Girls on the Run International.
Maria earned her BA in Psychology from Hamline University and her M.Ed. in Sport Coaching from The Defiance College.
At UNE Online students are our top priority, and their success is what drives each and every one of us to do what we do. We'd like to share a little bit about one of the people who is dedicated to making that happen every day.
What do you do at UNE Online?
I am a Student Support Specialist for the Master of Social Work Program.
Read more: Student Support at UNE Online
Where are you from?
I was born and raised in Minneapolis, Minnesota. I moved to Maine after completing graduate school in 2016.
What's your favorite dessert?
Anything coffee related—coffee ice cream, tiramisu, etc. My new favorite is the coffee ice cream brownie sandwiches from Trader Joe's!
What is the first thing you do in the morning?
Turn on my morning Spotify playlist and make some coffee. If it is the weekend, I'll usually start my day with a run outside.
What's the best professional advice you've received?
That leading by example, and not just words is one of the most important things you can do. A former supervisor once told me I had "silent strength," and that being quiet or reserved does not mean you are not having a positive and meaningful impact on others. I try to remind myself of that in my day-to-day work.
What's the last lesson you learned?
That you have to be willing to take reasonable risks and step out of your comfort zone. I feel like this has applied to my life in school, as a student-athlete, in the workplace, and beyond. I think I relearn that lesson often, especially every time I move to a new state or start a new endeavor.
What's your favorite part about what you do here?
I love that I get to work with students from all backgrounds and walks of life. No two students are the same, which makes our job dynamic and interesting. It is inspiring to hear what these students are doing at any given time while pursuing their MSW – we have students working part or full-time, raising families, volunteering, and so much more.
If you could eat one thing for the rest of your life what would it be?
Probably muffins or waffles—I love breakfast!
What's your favorite emoji?
It's a tie between the nerd face and the 100.
Favorite book?
"Why Not Me?" by Mindy Kaling
What's your motto?
Life will knock you down more times than you can imagine—don't knock yourself down.
What's your favorite thing about living in Maine?
I have two favorite things: the ocean, and how nice all the people are. In Minnesota, there is a saying called "Minnesota Nice" which basically expresses the idea that Minnesotans are apparently extra nice to each other, but I have found the same to be true in Maine!
What's your ideal Sunday?
My ideal Sunday would probably either be a relaxing day at the beach or a trip down to Boston for a day in the city (including a stop for cannoli in the North End).
---
If you are interested in pursuing your Master's in Social Work, or even if you're simply interested in discussing the program, please reach out to an Enrollment Counselor at (207) 221-4143 or via email at socialworkonline@une.edu.
Get the Social Work Program Guide
Interested in applying to UNE Online? The sooner you apply, the sooner you hear back. Fill out an online application today at online.une.edu/gateway-portal-page – we look forward to hearing from you!
Master of Social Work | MSW | MSW Student Support | Social Work | student support
---