Meet Our Team: Lucas Good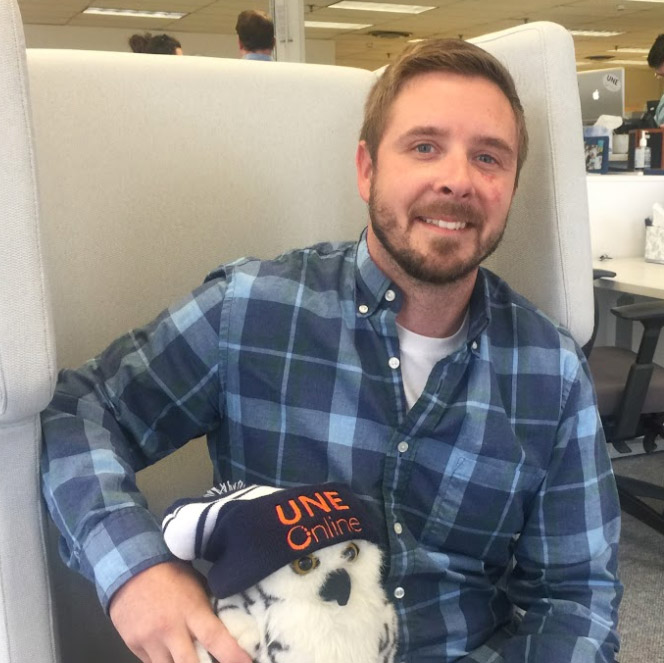 Lucas Good is an Enrollment Counselor for our advanced degree programs in Education here at UNE Online.
Lucas not only studied elementary education, but is also a certified teacher. So if anyone knows what it's like to be a teacher and apply to one of our Education programs, it's Lucas. He also loves pizza, ice cream and the ocean.
At UNE Online students are our top priority, and their success is what drives each and every one of us to do what we do. We'd like to share a little bit about the people that are dedicated to making that happen every day.
What do you do at UNE Online?
I'm an Enrollment Counselor here at UNE, and I work specifically with applicants for our advanced degree programs in Education.  I'm an applicant's first point of contact when they are interested in one of our advanced degree education programs. I cover the Master of Science in Education, CAGS, Post-Master's Certificate, and Ed.D programs. I make myself available to answer any questions that applicants may develop at any point during their application process.
Where are you from?
I'm originally from Fairfield, Maine, which is a rural town located in central Maine – a little over an hour north of the Portland campus.
What's your favorite dessert?
Ice cream, all day! I like coffee, hard serve. Beals Ice Cream in Portland is my favorite.
What is the first thing you do in the morning?
First thing in the morning I usually take my dog Arlo outside and throw a ball for him. He runs around and gets all his energy out and then he's good until about lunch time.
What's the best professional advice you've received?
Some advice that I've always tried to put into practice is; you catch more bees with honey than you do with vinegar. I'm not sure where I heard it, but it's definitely something that has proved to be true in my professional career.
What's the most recent lesson you've learned?
Always ask for a receipt. You never know when you might need it.
What's on your desk?
I keep a pretty clean desk with not much on it. But I do have my time zone map. And even though I've committed all the time zone information to memory, I still glance at it to make sure when I'm calling any of our prospective students in another state, that I'm not waking anyone up.
What's your favorite part about what you do at UNE Online?
Speaking to teachers is my favorite part. I studied elementary education and am a licensed teacher, so I can relate to a lot of what they're going through. That's especially helpful working with applicants for our education programs because many of them are teachers.
If you could eat one thing for the rest of your life what would it be?
Pizza. Angelone's North on Washington Ave in Portland is my favorite. Angelone's is cash-only and you can get the best no-frills pepperoni pizza there. It's delicious.
What's your favorite emoji?
I like the clapping emoji. It's the one I find myself using the most.
Favorite book?
It's called Rant by Chuck Palahniuk. It's very dark and twisty.
What's your favorite thing about living in Maine?
My favorite thing about living in Maine is the ocean. It could be the beach or the working waterfront – I just love the ocean and Maine has a lot of it.
Do you have a secret talent?
My sisters and I made up a secret language that we can still speak to each other. It still drives my mother crazy.
---
Stay tuned for more of our team profiles, but in the meantime, click here to learn more about our Graduate Programs in Education.
CAGS | Enrollment | enrollment counselor spotlight | Graduate Programs in Education | MSEd | PMC
---