Assistant Director Spotlight: Monique Roy – Education Program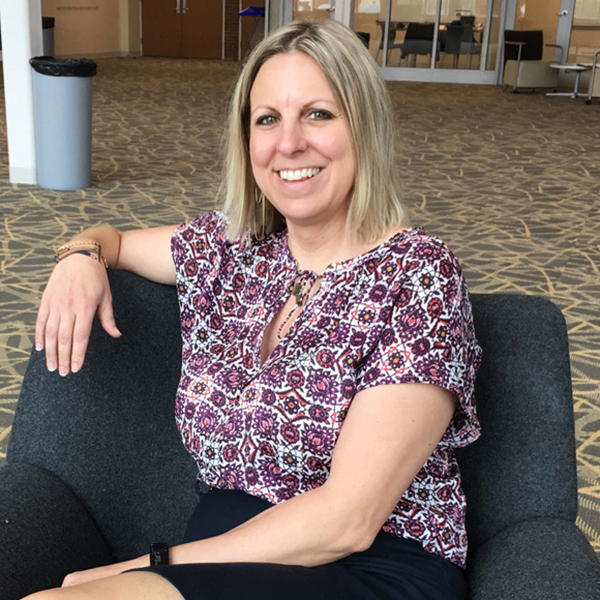 As a non-traditional student and life-long learner, Monique Roy truly understands the value of education and believes that it has the ability to change lives because it has changed hers. Monique has been involved in all aspects of education (including student, teacher, advisor, curriculum developer, certification officer and school board member), so her well-rounded perspective makes her an incredible asset to her students, and to the Graduate Programs in Education at UNE Online. She has also helped pioneer the College's adult education focus area.
Monique Roy is the Assistant Director for the Graduate Programs in Education at UNE Online. Monique is also a teacher in her "spare time." As Monique has learned through her career, she "NEEDS that teaching piece as a part of my life."
Read on to learn more about Monique's journey and her passion for education at all levels.
How could Adult Learning Theory help your career?
Can you tell me a little bit about your background and what drew you to UNE Online? How did you get interested in the field of Education?
Sure thing! I was a non-traditional student myself and was 38 years old when I graduated with my bachelor's degree in Political Science from the University of Southern Maine. At that time, I had two small kids and my husband was working in Alaska, so my options for working and using my Poli Sci degree were slim.
I began to think back on one of my last courses from my bachelor's program which was focused on the refugee experience. As part of my fieldwork, I provided homework help for the immigrant population at my local library. I absolutely LOVED working with the students and helping them with writing, so I began to think, "How can I expand on doing this sort of work?"
I obtained a job as an EdTech at a local elementary school working with ESL students. During my time in the K-12 environment, I began to get frustrated with the way our system handles education for students who come from marginalized populations. I kept hitting walls. It dawned on me, after running into the parents of the students in the parking lot at school, that perhaps I could approach this problem from a different angle and work with parents, to help them achieve their educational goals. I knew how much education had changed my life and thought I could help others change their lives through education. It was at that point, that I decided to make the switch to Adult Higher Ed.
I transitioned to working as a student advisor for almost three years, but I missed teaching. It was then that I completed my Adult Education Teaching Certification with a social studies concentration and moved to a College Transitions/Teaching role for the Learning Center at Augusta Adult Education.
Recently, I was elected to my local school board and I'm viewing education from a policy perspective. I've had experience with education at ALL different levels, which I feel gives me a well-rounded approach.
I love my job here at UNE Online as an administrator, but I still have a desire to teach, so I've been teaching internship courses, and a community relations course, and I'll be teaching our new Adult Learning Theory course. I truly have the best of both worlds. It's a lot of work but I NEED that teaching piece as a part of my life.
What do you feel sets the UNE Online Graduate Programs in Education apart?
Our faculty, including myself, are doing the front line work every day. We know what's happening in schools and so the transfer of that knowledge to our students is real for them, and they get it. We also have faculty who are responsible for hiring, so they are uniquely positioned to understand the skills needed and required to get a job in the field and are able to pass that information on to our students.
Additionally, the connections and networking opportunities that we create and are able to provide for students are invaluable. Erin (our Education Program Director) and I have both been in the field, so we understand the needs of students and are able to provide insight and create connections.
In addition, our support teams are FANTASTIC and truly unique.
How do you feel that you prepare your students for life after graduation?
Our students are already teaching, but we give them the depth required to advance in their career. They learn how to do research in order to solve problems in their environment. Or we help them find specialty areas they are passionate about and prepare them to become experts in those areas. Our students walk away with an incredible toolkit.
More from Monique: Monique Roy to Speak at Maine Adult Education Conference
What do you like best about working with UNE Online students?
I love that students bring their work to their classes. We have this incredible dynamic of faculty and students bringing experiences to the table, and then together, students and faculty brainstorm best practices. Our discussion boards are dynamic and our people put their heart into the work they are doing.
Most importantly, our students are respectful of everyone in the room because we all know the common goal is to educate kids.
How did you become an expert in adult education?
After I finished my master's in Leadership Studies I was working in adult education, and as a true education professional, I needed to learn more.
I enrolled in a CAGS program with a concentration in adult education, which allowed me to take the coursework I was learning and apply it directly to the students I was working with. The coursework and simultaneous application allowed me to develop an understanding that wouldn't have been possible otherwise.
Read more: Train Managers to Train
What would say your favorite thing about the job is?
Because I wear so many hats I have a number of favorite things. One great thing is that as a certification officer, I get to sign off on forms that our students need for the certification they came here to get, so that's fantastic.
I also love helping students with their internships. It's a really exciting feeling to be out in the field practicing the work that you're training and preparing for.
And I love creating new curriculum as well as working with our existing curriculum to make it as effective as possible based on our student's needs.
Are you in any degree program now, or what's next on your list?
I am currently looking at terminal degrees. I am going to wait until after my son graduates high school in 2019, so I'm going to aim for 2020. I'll keep you posted!
Learn more about our Adult Education courses
If you are interested in the online Graduate Programs in Education or if you would like more information on UNE Online's MSEd, PMC, CAGS or Ed.D. programs, please reach out to an Enrollment Counselor at (800) 994-2804 or via email at education@une.edu.
Or, if you're ready to apply, fill out your online application at online.une.edu/gateway-portal-page.
Education | Graduate Programs in Education | Master of Science in Education | MSEd
---