Princeton Review Ranks UNE as a Top College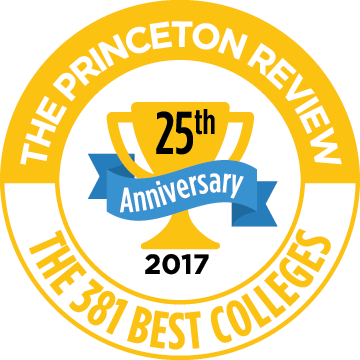 For the second consecutive year, UNE has been included in The Princeton Review Best 381 Colleges guide. This highly-selective publication includes only the top 15% of four-year colleges and universities in the United States.
It's quite an honor to be included in this elite ranking of the nation's very best colleges and universities.
At UNE, we take great pride in the quality education we provide to our students, and this great ranking from the Princeton Review is confirmation to us that we're on the right track.
Students are loving life at UNE – and it's encouraging to see that our extensive efforts to provide a superior student-centered experience are paying off.
Click here to view UNE's 2016-2017 Princeton Review ranking.
UNE was selected for the Best 381 Colleges guide based on its high-quality academic offerings, optimal locations in Maine and Morocco, competitive cost, and size. UNE's profile in the guide details its admission requirements and academic offerings while providing other information about the experiences UNE offers students.
The Best 381 Colleges guide selects schools on the basis of academic quality, student survey data, and its commitment to providing a balanced representation of colleges by region, size, character, and type. More than 142,000 students participated in the surveys, rating schools on the quality of their academic offerings and administration, campus life, and overall environment.
Year over year, the sample size of students polled for the Princeton Review's rating has grown. For 2016-2017, they surveyed an average of 375 students per campus, across the country, asking each of them a total of 80 questions that fall into four main categories:
"About Yourself"
"Your School's Academics/Administration"
"Students"
"Life at Your School"
The questions within each category of the survey cover a wide range of topics from the serious "How many out-of-class hours do you spend studying each day?" to the more fun "How do you rate your campus food?" Most questions offer an answer choice on a five-point scale, but there are several opportunities for students to answer open-ended questions as well, so students can answer in their own words.
Read Princeton Review's full methodology behind their new 2016 rankings here: https://www.princetonreview.com/college-rankings/ranking-methodology. UNE is proud to have such a great showing on be on this list, and we are proud to offer our students a great education at an affordable price, to prepare them for rewarding careers.
Interested in joining our online student community and getting your graduate degree completely online? Click here to read more about UNE's online graduate program offerings.
---
Princeton Review logo reprinted from the 2017 issue of The Princeton Review's Best 381 Colleges. ©2016 TPR Education IP Holdings, LLC. The Princeton Review is not affiliated with Princeton University. For more information about reprints from The Princeton Review visit PARS International Corp. at www.TPR-licensing.com.
Awards | recognition
---