Student Spotlight: Adanna Hackett, Science Prerequisite Program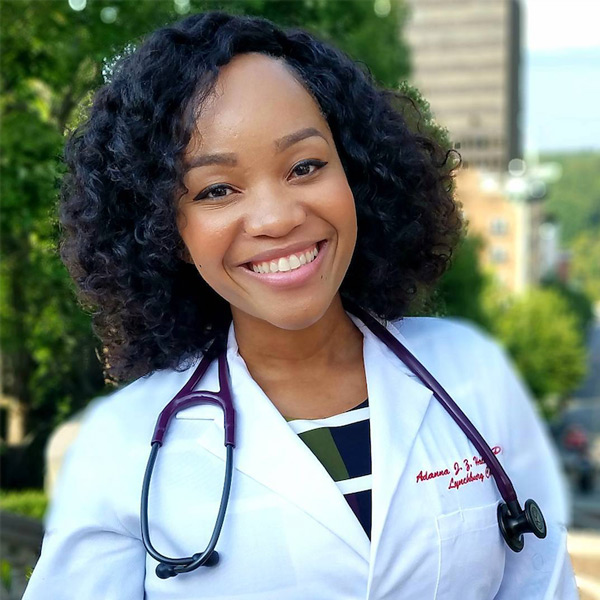 Adanna has always had a passion for her family and medicine. These two passions led her to realize that becoming a physician assistant, or PA, was the right profession for her. Adanna documented her PA school journey in a series of YouTube Videos as "Adanna the PA" where she also gives advice to other pre-PA's.
Continue reading to learn more about Adanna's journey from pursuing PA school, to enrolling in her UNE prerequisites, to educating other pre-PA students, to receiving her white coat and graduating PA school!
Can you tell me a little about yourself and what made you pursue physician assistant school?
I'm the youngest of 4, a wife of 10 years, a mother of two beautiful little girls, and a recent graduate of PA school! As far as pursuing PA school I've always had a passion for medicine, but I'm also very passionate about my family, so as I began to research what area of medicine I wanted to pursue, those two passions were always at the forefront of my mind. That is why the PA profession really resonated with me. It afforded me the opportunity to be a provider and connect with patients, but also not lose time with my family, which was very important for me when choosing a profession.
How did you decide on UNE Online to fulfill your science prerequisites needed for PA school acceptance?
Well it was a pretty easy decision – once I did all my research on the matter! You see, I had to obtain prerequisites for PA school because mine were about to expire. The dilemma I ran into was that I could only take so many classes during the summer and fall sessions because I had a family – and at one point in this process; three jobs!
I decided to look for online options so that I could complete my courses at my own pace and in the comfort of my own home. However, I knew that not every online science course counted as a "medically acceptable" course and rarely did I find a school that had online and take-home labs. Once I saw that UNE's courses were acceptable to my medical and graduate schools of interest and that they had online and take-home labs, I was in!
DOWNLOAD OUR SCIENCE PREREQUISITE PROGRAM GUIDE
What courses did you take with UNE Online and what about these courses did you find unique?
I took biochemistry and organic chemistry. I liked that the program was structured in such a way that I didn't have to move at the same pace as everyone else in my class as you would in a typical classroom setting. With the online course, I could read the lesson, take the quizzes, and complete my exams at my own pace. I could choose to take it slowly (within the allotted 16-weeks of course) or more quickly.
What would you want students to know before starting an online prerequisite course with UNE Online?
These classes are not easy, but they are very doable. If you aren't someone that can self motivate, then distance learning may not be for you. It's going to be a lot of work, but the online course format is very conducive to having a life outside of the classroom, which is essential for a nontraditional student like me.
Read more: Student Spotlight: Justin Kenney on Science Prerequisites for Medical School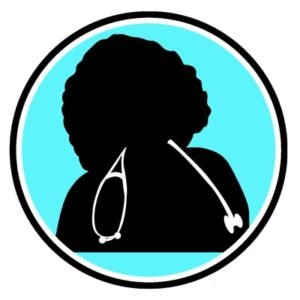 You have your own YouTube channel called Adanna the PA! Tell us more about what you provide on your channel to pre-PA students.
My search for PA school information began, as is the case with everyone else of my generation, with the internet. However when I googled PAs and PA school, 1. I didn't see many people talking about it and 2. I didn't see anyone that looked like me talking about it.
Therefore, I decided, I'm going to do it! I'm going to document my journey, my mistakes, my struggles, and my successes. And hopefully, individuals who are in similar situations will have someone to relate to and maybe I can make a slight difference in their process.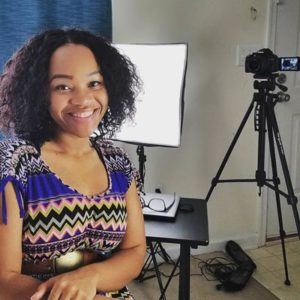 Shortly after documenting my journey, my channel quickly transitioned into an entire brand and is continuing to transform every day. It has become an opportunity for me to not just share my journey, but help others along their PA journeys through informational videos, a documentary series, pre-PA application consultations, and much more.
We see you just recently graduated from Physician Assistant school. Congratulations! What are your next steps in your health professions career?
As far as the future goes, I'm currently taking it one day at a time. I have to take and pass my board exam and then look for a job. I've always been interested in women's health, and it's still my number one specialty, but I've also had a desire to go into primary/urgent care.
I love the time that you get to spend in primary care, building relationships with patients, and I love the procedures you get to do in the urgent care setting. Kinda cliche, but I really do love people, so I'll be looking for positions that allow me to be me. Right now though I'm just enjoying not having to study for three exams in one week!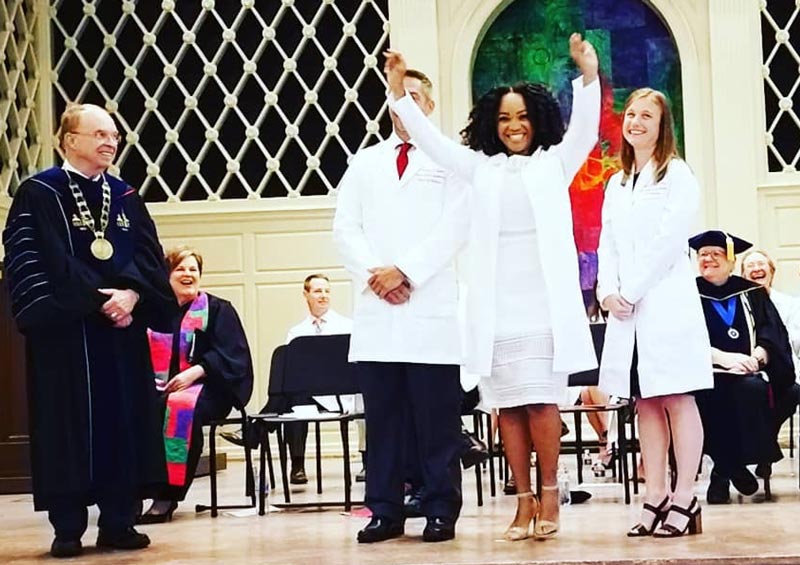 Is there anything additional you'd like to share about your experience with UNE Online's science prerequisite course offerings?
I must say that I really did love my experience with UNE Online. I set a goal to complete my prerequisites so that I could apply to PA school by a certain date, and I couldn't have accomplished that goal if not for the flexibility of UNE's online courses.
The online courses allowed me the opportunity to be with my family, while at the same time I was able to accomplish my goal of getting into, and ultimately completing PA school – and for that I'm grateful. Also working at my own pace was pretty cool, since I had a whole life to still manage outside of the "classroom."
So if you need to take classes that will work around your schedule, UNE Online is the place to be!
LEARN MORE ABOUT OUR SCIENCE PREREQUISITE COURSE OFFERINGS HERE
Have a question? You can reach our Science Prerequisite Courses enrollment team at: 1-855-325-0894 or at prehealth@une.edu.
To register for a science prerequisite course, you will need to enable FLASH in your browser. For step-by-step instructions, visit https://helpx.adobe.com/flash-player.html.
Ready to start right now? Register for a science prerequisite course today!
Science Prerequisites for Health Professions | SPHP | SPHP Student Spotlight | Student Spotlight
---