U.S. News & World Report Recognition for Online Graduate Education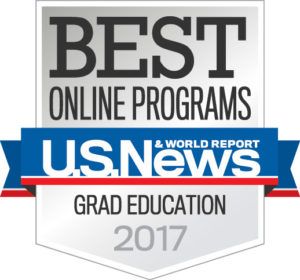 UNE Online is thrilled to share that we've been named one of the top 100 Online Programs in Graduate Education by U.S. News & World Report in their 2017 rankings.
The online Graduate Education Programs at the University of New England are dedicated to advancing and developing reflective and resourceful teachers and school leaders who are competent, caring and qualified.
Recognized as one of the Best Online Graduate Education Programs by U.S. News & World Report, UNE's online graduate degrees in Education provide students with the knowledge and skills to become leaders and shape the future of education.
U.S. News & World Report calculated their rankings based on the following five categories:
Student Engagement – weighted 35%

Quality online graduate education programs grant aspiring teachers and educational administrators opportunities to readily interact with their instructors and classmates. In turn, instructors are not only accessible and responsive, but they are also tasked with helping to create an experience rewarding enough that students stay enrolled and complete their degrees in a reasonable amount of time.

Student Services & Technology – weighted 20%

Programs that incorporate diverse online learning technologies allow greater flexibility for students to take classes from a distance. Outside of classes, strong support structures provide learning assistance, career guidance and financial aid resources commensurate with quality campus-based programs.

Admissions Selectivity – weighted 15%

Student bodies entering with proven aptitudes, ambitions, and accomplishments can handle the demands of rigorous coursework. Furthermore, online degrees that schools award judiciously will have greater legitimacy in the job market.

Faculty Credentials & Training – weighted 15%

Strong online programs employ instructors with academic credentials that mirror those of instructors for campus-based programs, and they have the resources to train these instructors to teach distance learners.

Peer Reputation – weighted 15%

A survey of high-ranking academic officials in education helps account for intangible factors affecting program quality that are not captured by statistics. Also, degrees from programs that are well respected by academics may be held in higher regard among employers.
UNE Online offers the following Online Graduate Education programs:
Each of these online graduate education programs opens doors to leadership opportunities in the education field and beyond, allowing you to move forward in your career, move into a different role as an administrator, assume a director-level position, or become a content area specialist – all depending on your professional goals.
---
To learn more about the Graduate Programs in Education at UNE Online, go to online.une.edu/education – or to reach out to an Enrollment Counselor directly, email education@une.edu or call 1 (800) 994-2804. 
Awards | CGPS | recognition
---