Ghana Health Partnership and Immersion Program
Engage in direct health services, interprofessional collaboration, community education and cross cultural exchange.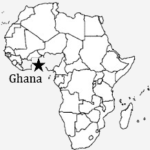 The Mission of the Ghana Health Partnership (GHP) is to improve the health care capacity and advance the health status for the population of Ghana through joint and collaborative research, education and programs in health promotion, care management, and workforce development.
UNE, the Ghana Health Service, the University of Cape Coast, and several US based health organizations have all partnered in this movement.
The Ghana Health Mission began in 1996 at the University of Massachusetts, and it was brought to UNE in 2008. Since its inception, UNE missions have included interprofessional teams of health professions students and faculty.
Annual collaborative effort
This annual effort involves collaboration between UNE, the Ghana Health Service and local Ghana health practitioners to provide primary care, health education and clinical services to community members in the city of Sekondi and two rural nearby villages.
The trip gives American and Ghanaian physicians, nurses, pharmacists, physical therapists, physician assistants, optometrists, social workers and public health professionals the opportunity to learn from, with and about each other and their patients.
Everyone is welcome
Students from all health professions programs are invited to participate, and will, in conjunction with participating faculty, develop, implement and evaluate health education curricula relevant to the population need. *
Learn More about the Ghana Immersion Program
*The Cross Cultural Immersion Program in Ghana will not be offered in 2017. Please check back next year for information regarding a possible summer 2018 trip.
Interested in becoming a student?
Contact an Enrollment Counselor with questions or for more information.