UNE recognized for Best Online Graduate Programs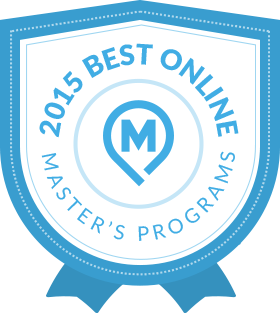 The University of New England has been recognized as one of the best online graduate schools by OnlineMastersPrograms.org for Best Online Master's Programs in 2015.
UNE achieved top rankings for both the Master of Public Health and Master of Social Work programs.
The Best Online Graduate Programs ranking is valuable because it assists potential post-secondary online students in finding what they need to identify a reputable master's program, succeed in the program, and land a career that makes the most of their higher education.
Evaluated among thousands of online education programs, UNE's online MPH and online MSW programs were reviewed based on a range of competency areas that include:
Dedication to online education
Investment in academic support services
Rigor of graduate-level studies
Investment in career support services
"We are very proud to receive this recognition for programs within our online college," says Martha Wilson, Ph.D., Dean, College of Graduate and Professional Studies & Associate Provost for Online Worldwide Learning. "It is a testament not only to our expert faculty and dedicated support staff, but to the motivated students we have the privilege of teaching here at UNE. It is an honor to play such a role in the development of future leaders across many growing professions."
The Best Online Master's Programs of 2015
In order to identify the best graduate programs in the country, OnlineMastersPrograms.org collected and analyzed data from thousands of universities and weighed it against research from major U.S. education databases and rankings organizations. In addition to information from school program pages, they've compiled data from:
Integrated Postsecondary Education Data Systems (IPEDS)
National Center for Education Statistics (IES) – College Navigator
U.S. Bureau of Labor Statistics
US News & World Report – Graduate Rankings
Tangible and intangible factors that make up a high-quality program
"Getting a master's degree unlocks additional career paths ― it gives you documented competency in a field, which can give you the upper hand in the job hunt." – OnlineMastersPrograms.org
Proven excellence in online education
This accolade is the latest in a series recently earned by UNE, including being named one of "America's Top Colleges" by Forbes, ranking in the top 15 percent for return on investment among U.S. public and private higher education institutions by Payscale.com, and claiming a top spot in U.S. News & World Report's 2015 rankings for Best Online Graduate Education Programs.
100% online
If you'd like to attend one of the best graduate schools, get in touch!
Click here to read more about UNE's Online Graduate Programs
Tags:
Awards | CGPS | Enrollment | recognition | UNE Online
---
One response to "UNE recognized for Best Online Graduate Programs"