Master of Science in Applied Nutrition
Advancing nutrition leaders through evidence-based nutrition education
The mission of the Master of Science in Applied Nutrition is to prepare individuals for leadership roles in the nutrition field, to advance knowledge and expand skills that promote excellence and innovation in all areas of nutrition practice, and to emphasize evidence-based best practices to support the well-being and health outcomes of individuals, families, and communities through education, research, and service.
UNE Online offers this 36-credit Master of Science in Applied Nutrition 100% online with timely, relevant classes and optional focus areas for professionals looking to advance their careers.
All students take the six core courses of the curriculum, and then each student is able to select their own five electives and one capstone to complete the Master of Science in Applied Nutrition degree. This flexible offering allows you to customize your course plan based on your specific career goals.
Applied Nutrition careers in today's job market
The demand for knowledgeable nutrition professionals has rapidly grown in recent years as global health trends reveal undisputed links between diet and health.  Changes in the healthcare environment, expanded reimbursement policies in the 2010 Affordable Care Act, consumer interest in natural, functional, and fresh foods, and a growing public interest in nutrition and diet research have led to a demand for differentiation among Applied Nutrition practitioners.
Certified Nutrition Specialist
"The University of New England's Master of Science in Applied Nutrition program fulfills part of the current academic requirements for the CNS. BCNS requires a graduate degree in the field of nutrition from a regionally accredited university, specific coursework, and 1,000 hours of supervised experience. BCNS reviews each candidate individually, including current course descriptions, transcripts, and experience to determine eligibility. To learn more about becoming a CNS, visit www.NutritionSpecialists.org."
Focus your degree
The flexible nature of the Applied Nutrition degree allows you to take the requisite first year classes, and then diversify your educational plan of study to best meet your specific personal and professional goals. Our program provides you the flexibility to completely customize your course plan, or select from one of the focus areas with recommended course tracks.
Optional focus areas include:
Watch the interview with Tyler Blankenship, Applied Nutrition program graduate.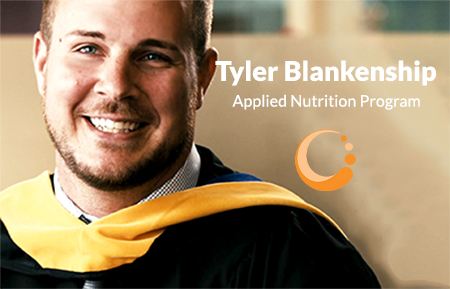 Program Highlights
36-credit hour program
Complete your degree as quickly as two years
100% online – no campus visits required
Learn anytime from any place
No GRE Required
Dynamic faculty of practitioners, researchers and educators
Regionally accredited by the New England Commission of Higher Education (NECHE)
RD Certification
If you want to pursue becoming an RDN, please see our ACEND-accredited, 48-credit-hour MS, RDN focus option, which leads to a verification statement that allows you to write the exam for the RDN credential. In contrast, our 36-credit program does not lead to Registered Dietitian Nutritionist (RDN) credentialing and a verification statement cannot be provided upon completion of the program.
Master of Science in Applied Nutrition Learning Outcomes
The Master of Science in Applied Nutrition (MSAN) program at UNE will prepare you to be fully capable of interpreting, communicating, and applying complex nutritional concepts to a wide array of individuals, communities, and organizations. Measurement of student learning outcomes will be accomplished through a combination of exams, written papers, and authentic real-world projects.
Direct and develop innovative practices
You will be prepared to be able to use evidence-based knowledge to inform best practices and influence nutrition policy, as you will be on the forefront of change as more value is placed on the role of nutrition in the overall healthcare picture.


Acquire leadership skills
You will learn how to provide leadership and innovation to the profession of Applied Nutrition, and how to facilitate the growth and the application of best practices in the field, both regionally and globally.