UNE

Public Health graduate programs for future public health leaders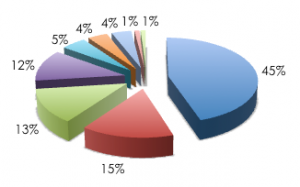 Ever won­dered what our Alum­ni do after grad­u­a­tion?
Click here to see!
CEPH-accredited Public Health degrees offered fully online
There is a crit­i­cal need for pro­fes­sion­als with pub­lic health degrees today. The Asso­ci­a­tion of Schools of Pub­lic Health (ASPH) esti­mates that by the year 2020, the Unit­ed States will be fac­ing a short­fall of at least 250,000 pub­lic health work­ers.
There is no bet­ter time to earn a UNE Pub­lic Health degree 100% online, with no cam­pus vis­its required. Click here to see the top 10 rea­sons to choose a Pub­lic Health career.
Master's of Public Health (
MPH

) from University of New England

If you're inter­est­ed in improv­ing the lives of oth­ers through build­ing one-on-one rela­tion­ships, con­duct­ing research or ana­lyz­ing num­bers, pub­lic health is the field for you. Pub­lic health grad­u­ates can find employ­ment in the pub­lic or pri­vate sec­tor, with­in non-prof­it orga­ni­za­tions, or in local, state and fed­er­al health depart­ments. Click here to learn more about our Mas­ter of Pub­lic Health (MPH) Pro­gram.

Many of the career oppor­tu­ni­ties in pub­lic health require a grad­u­ate degree in the field. Grad­u­ate lev­el edu­ca­tion pro­vides the skills and knowl­edge nec­es­sary to solve the increas­ing­ly com­plex pub­lic health issues fac­ing the coun­try and the world.

Obtain­ing your MPH from the Uni­ver­si­ty of New Eng­land can give you a com­pet­i­tive edge over oth­ers with­in the field. Addi­tion­al­ly, earn­ing a Mas­ter of Pub­lic Health can help cur­rent pub­lic health pro­fes­sion­als to more read­i­ly advance in their cur­rent role. Click here for the grad­u­ate pro­grams in pub­lic health aca­d­e­m­ic cal­en­dar.
Graduate Certificate in Public Health (
GCPH

)

UNE, ranked one of the best uni­ver­si­ties in Amer­i­ca, has the only CEPH-accred­it­ed 100% online pub­lic health pro­gram in Maine. This 18 cred­it hour pro­gram pro­vides you with the core pub­lic health con­cepts you need to pur­sue a master's in pub­lic health, all online. Use this grad­u­ate cer­tifi­cate pro­gram to either enhance your pro­fes­sion­al knowl­edge or to apply the cred­its toward your pur­suit of a grad­u­ate degree in the field. Click here to learn more about our Grad­u­ate Cer­tifi­cate in Pub­lic Health.
Our online public health degree program highlights include:
Com­plete your degree in just over 18 months
100% online — no cam­pus vis­its required
Learn any­time from any place
No

GRE

Required
Dynam­ic fac­ul­ty of prac­ti­tion­ers, researchers and edu­ca­tors
Region­al­ly accred­it­ed by the New Eng­land Asso­ci­a­tion of Schools

&

Col­leges (

NEASC

)
Accred­it­ed by the Coun­cil on Edu­ca­tion for Pub­lic Health (

CEPH

)
Mission, Goals, Objective and Values
The mis­sion of the Grad­u­ate Pro­grams in Pub­lic Health at the Uni­ver­si­ty of New Eng­land is to improve the health and pro­mote the well-being of indi­vid­u­als, fam­i­lies and com­mu­ni­ties through edu­ca­tion, research and ser­vice. Learn more about the mis­sion state­ment and goals. Click here for our Gain­ful Employ­ment Dis­clo­sure.
Click here for full course list and descrip­tions for the entire Pub­lic Health pro­gram, both Cer­tifi­cate and Master's cours­es.
Request Infor­ma­tionApply Now