Doctor of Education (Ed.D.)
An advanced education degree offered fully online, no campus visits required
Accreditation | Course Descriptions | Applied Research | Admissions Requirements | UNE Academic Catalog
The Doctor of Education (Ed.D.) is a cohort program with three cohorts per year: Spring A term, Summer A term, and Fall A term. It is a three-year program, including a dissertation, and is completed entirely online with no residency requirement. Your dissertation is also presented online.
The program focuses on transformative leadership and will prepare you to transform self, organization, and community through focused, flexible study. You will become powerfully positioned to build allies with others striving for common outcomes as well as collaborate with individuals with divergent values and perspectives.
Please note: If your goal is to become an Administrator in the State of Maine, and you currently have your Master's Degree, the 30-credit CAGS in Advanced Educational Leadership is the program that would lead to Building Administrator 040 certification in the State of Maine.
Highlights
51-credit hour program
100% online – no campus visits required
Learn on your schedule in a flexible study environment
Renowned faculty of practitioners, researchers & educators
Strong networking forum
No GRE required
Regionally accredited by New England Commission of Higher Education (NECHE)
Goals
Prepare leaders who are future-focused and capable of fostering innovation and change.
Promote a continuing cadre of educators who maintain active connections and collaboration with one another, with schools, communities and professional groups.
Establish a higher education program that is technologically sophisticated, educationally effective, and academically rigorous.
Build a national reputation based upon transformative collaborative action research.
Provide each candidate with a carefully selected faculty mentoring team contributing actively to the candidate's progress with their program of study, their research, and their dissertation, beyond what is usually available with a single advisor.
Why these individuals chose to earn their Ed.D.
Emphasis on transformative leadership
Transform self . . .
Engage in leadership reflection activities to identify your strengths, pinpoint areas for growth, and align your individual development goals.
Transform organizations . . .
Draw from the tenets of organization development theory, critical social theory, and adult development to analyze and influence the culture of your organization.
Transform communities . . .
Refine your leadership stance to interact more fully with the communities you serve. Imagine the organization in which you work as an organic system that can respond to the needs of the community. The UNE Ed.D. program is well-matched for individuals working in:
Education
Healthcare
Nonprofit Organizations (NPO)
Non-governmental Organizations (NGO)
Private Organizations
Public Agencies
After completing the Doctor of Education (Ed.D.) program, students should be able to:
Participate fully and responsibly in supportive and action based learning environments of authentic value for colleagues in K-12 education, community college, health, business, and other sectors.
Develop and utilize transformative institutional processes to foster, assess the results, and respond to the reported analysis for continued systemic change.
Use technology for research collaboration and dissertation development among colleagues and faculty (e.g., web/video conferencing).
Fully utilize an integrated curriculum that fuses discrete elements of each candidate's program of study into a coherent whole.
Fully utilize online search tools and databases to identify research studies and other relevant resources.
Participate in virtual seminars and conferences building a professional learning community.
Employ problem and case-based learning strategies extensively in courses and dissertation.
Write and successfully defend a field-based dissertation.
Curriculum Structure
This online Ed.D. program design specifically supports your development as a transformative leader through formal study of your organization, participatory research processes, and collaborative decision making. Professionals engage in:
Instruction that includes online lectures, instructor-led discussions and assessments, small group interactions, and limited, flexible synchronous sessions.
Preparation outside of class that includes readings, project development, and applied research.
Completion of a culminating dissertation that employs your professional knowledge and new learning and demonstrates transformative leadership, organization, and community change.
Accreditation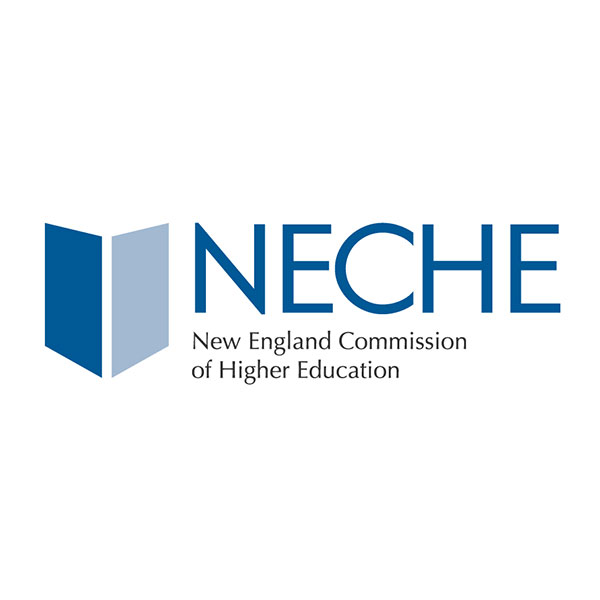 Accreditation is the review of the quality of educational institutions and programs. In the United States, accreditation is a major way that the public knows that an institution or program provides a high quality education. The University of New England is regionally accredited by the New England Commission of Higher Education (NECHE). NECHE is now the federally recognized regional accreditor for the six New England States after assuming the business functions of the Commission previously managed by NEASC. Click here to learn more »
Course Descriptions
This course supports the development of self, organization, and community through the enactment of transformative leadership values. Instructors provide current and aspiring leaders in diverse settings (e.g., education, health, non-profits, NGOs, public and private organizations and agencies, etc.) with perspectives, knowledge, experiences, and skills needed to transform their organizations through the effective use of human and technological resources. The course introduces three elements that will ground subsequent work: self-study, site-study, and research topic exploration.
Qualitative research provides field-focused, interpretative, detailed descriptions of participants and their settings. Students identify and implement research methods, developing a set of skills to critically observe individuals and communities, interview participants, and examine artifacts typically used in qualitative studies. Examination of one's role within the research setting is informed by engaging in critical reflection. Students evaluate qualitative methods that align with their proposed research study purpose.
Students are introduced to basic concepts of quantitative research design, methodology, and interpretation of results. Students analyze data sets to become adept at interpreting a wide range of statistical results. Quantitative analysis and interpretation are applied to typical local based samples and large databases. This set of conceptual and methodological skills is applied to proposed research designs.
Technology has demonstrated the potential to transform society and institutions. Students will examine how technology has affected educational and other systems to date and identify how technology applications could significantly improve the effectiveness of student learning, professional development, school and institutional management. The knowledge acquired from this course will permit students to develop strategic plans and policy for technology use in their respective institutional systems.
Students are exposed to critical competencies (attitudes, knowledge, skills) needed to create conditions for systematic and productive change, and to facilitate the process of introducing and sustaining innovation with maximum collaboration and minimum disruption. Also considered are various perspectives on how organizations function, and how individuals and groups within those settings can interact to achieve organizational goals for planned, purposeful change.
Policy analysis, formulation, and implementation is presented as elements for leaders to utilize in promoting and establishing sound and stable protocols and procedures to guide and govern individuals and organizations in performing tasks and achieving desired outcomes. Means by which transformative leaders introduce new or revised policy with maximum participation and minimum disruption are emphasized.
This writing intensive course covers the foundations of enacting leadership content gained thus far in the program for the purpose of locating, developing, analyzing, synthesizing and constructing a sound literature review consistent with the research on the student's chosen research topic. This course provides students with opportunities to develop skills that are essential for conducting research and completing a dissertation, with a particular focus on reviewing literature and composing a literature review chapter.  Students will demonstrate the ability to discriminate among alternative research viewpoints, differentiate constituent parts of the review, assess and comment on theories, thoughts, and ideas, concept proposals and relevant literature, and construct a cogent and compelling literature review.
This course is the first of two courses (EDU 808 & EDU 809) designed to provide a cognitive map introducing the researcher to theoretical and conceptual frameworks. This course focuses on the theoretical framework in particular and its practical application to inform and guide research. The course design is designed to strengthen the ability of students to relate theory to select leadership case examples within the text. Students will further develop individual applied research by continuing to review the literature, by articulating a theoretical framework and continue the quest to clearly focus the purpose of their study.
This course is the second of two courses (EDU 808 and EDU 809) designed to provide a cognitive map to introduce the researcher to the significance of theoretical and conceptual frameworks. Students will be introduced to the ways in which conceptual frameworks function as a statement about why their topic is worth studying, why it matters, and if the proposed research study methods are appropriate and rigorous. This course will focus on conceptual frameworks and their practical application to synthesize research. Students will further develop their individual applied research by continuing to review process, establishing the basis for a solid research problem, and use conceptual frameworks as both guide and ballast for research.
Students are exposed to the complex set of issues relating to ethical behavior in institutional settings, including academic integrity, curriculum choices, student assessment, parental involvement, community relations, and administrative-staff conflict. Through readings, case analyses, and other means of investigation, the consequences of ethical and unethical practices and their impact on individuals and organizations are examined.
Transformative leaders are successful in diagnosing and interacting with both internal and external forces affecting the organizational environment. This includes socio-cultural factors, poverty, family situations, and health. Students analyze case studies of effective and ineffective individual, group, and organizational dynamics that drive and restrain change processes. Appropriate interventional strategies are considered.
Students work directly with their dissertation chair and committee to define the research problem, literature and methodology they will use during the third year of the program. By the completion of the course, candidates will be prepared to pursue their dissertation independently and confidently and will present a preliminary proposal for review and comment.
Effective transformative leaders must understand and address the dynamics, whether positive or negative forces, affecting change efforts in their respective settings. The course engages students in issues of power, conflict, negotiation, and compromise. Emphasis is placed upon how best to introduce and advance innovation by maximizing collaboration and minimizing opposition.
Collaborating with their respective dissertation committee, as well as continuing with peer interaction, students engage in the planning, organization, research, writing and revising of the dissertation. Regularly scheduled virtual meetings with the chair and full committee will ensure that timely and satisfactory progress is made in order to present the finished product at the end of their academic year.
Note: Students must complete the entire degree within five years. Under highly unusual conditions, students may petition for an extension beyond five years.
Applied research: your dissertation
"Conducting and disseminating relevant research through the integration of scholarship and practice." Graduate programs for practitioners focus on "applied research," that is, asking questions or "problem-posing" in organizational settings. Dissertations are studies conducted by graduate students with the support of instructors, advisors and committee members, and a peer study group. They can be qualitative, quantitative, or used a "mixed methods" approach, depending on the question and the setting. Dissertation: "An in-depth, rigorous examination of a particular issue that provides new knowledge and/or perspectives." Dan Butin (2010). Reference: Butin, D. (2010). The education dissertation. Thousand Oaks, CA: Corwin Press. The process: Cohort members explore possible research topics from their admissions essay through Year One. At the end of Year One (EDU 805), you will draft a pre-proposal to present to a team of instructors during the next term. You continue to develop your Proposal through Year Two. The formal "dissertation timeline" starts at the end of Year Two and carries through the end of Year Three. Program Curriculum Strands: See Curriculum Strands Map & Course Themes
| | | | | | | |
| --- | --- | --- | --- | --- | --- | --- |
| YEAR 1 | EDU 801 | EDU 802 | EDU 803 | EDU 804 | EDU 805 | EDU 806 |
| YEAR 2 | EDU 807 | EDU 808 | EDU 809 | EDU 810 | EDU 811 | EDU 812 |
| YEAR 3 | EDU 813 | EDU 814 | EDU 815 | EDU 816 | EDU 817 |   |
Three member committee structure
Faculty advisors will supervise a graduate student team or "Research Group" of four to five members to support drafting and revision of text and data collection throughout the third year of the program. The advisor serves as the lead instructor, the second committee member supports the advisor by providing consultation and editing of student writing. This two-person team is responsible for dissertation development. The third member is selected by the graduate student and serves as the site-based or local resource. The three-person committee meets with your team for the Proposal and for the Presentation.
Regularly scheduled advisory meetings: structured support
During Year Three of your doctoral program, Research Groups will meet online with their advisor and/or second committee member and with peer reviewers once each per month (two meetings per month, November to June). Structured support is one of the most important factors for successful and timely doctoral program completion.
Your dissertation
This is a formal document that meets the standards for unpublished transformative research. You will also craft a user-friendly summary, also known as the "executive version" or "research brief" which is useful to your specific audiences and stakeholders. Generally, the executive version of your dissertation contains a short description of your study with recommendations appropriate in length for a website or other organizational setting. For the most part, this material is taken directly from the conclusion of your dissertation.
Innovative approaches to leadership development allow you to:
Develop a transformative leadership Portfolio (TLP) to document your leadership work within and beyond the program
Extend and strengthen your professional network
Make a difference for your organization and for the community you serve
Strong support network
Right from the start, you will receive support to articulate and refine your research agenda. A solid research focus is essential for productive practitioner scholarship and will ensure congruence between formal study, application of theory, and your individual and organizational goals.
Suggested next steps: