Master of Public Health at the University of New England
CEPH Accreditation | Curricula & Course Descriptions | Practical Experience | Academic Calendar | Catalog
The CEPH-accredited Master of Public Health (MPH) program is designed to prepare public health practitioners with the knowledge and skills to promote the health of individuals and communities.
The fully online asynchronous education format accommodates both full-time and part-time students and is ideal for working professionals.
MPH program highlights
Option to explore a generalist program or enroll in the NEW epidemiology focus area
46 credit hours
Complete your degree in as few as 18 months
100% online – no campus visits required
No GRE required to apply
Learn anytime, from any place
Dynamic faculty of practitioners, researchers & educators
Regionally accredited by the New England Commission on Higher Education (NECHE)
Accredited by the Council on Education for Public Health (CEPH)
Succeed in an exciting and rewarding career
Make an impact today! The MPH program is a fully online, interactive program that will provide you with the essential knowledge, skills, and values to become a leading public health professional. The MPH curriculum is designed to enhance students' skills in a variety of public health areas including:
Advocacy
Communication
Epidemiology
Ethics
Evaluation
Financial Management
Global Health
Health Education
Program Planning
Public Health Law and Policy
Accreditation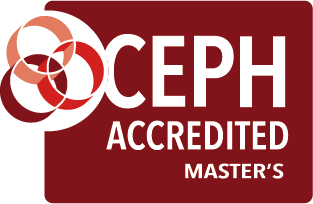 The Master of Public Health program at the University of New England is accredited by the Council on Education for Public Health (CEPH). Click here to learn more »
Master of Public Health curriculum structure
The 46-credit Master of Public Health consists of:
9 Required Courses


The 9 required courses provide a strong foundational knowledge base for you to build upon as you progress through the program.




Applied Practice Experience (APE)
The APE is an opportunity to acquire 'real world' public health experience, apply concepts learned in class to actual projects, and explore different public health settings. Learn more about the APE here.


Integrated Learning Experience (ILE)


Each student creates a high-quality written document that synthesizes public health concepts reflecting competencies established by the program and the Council on Education for Public Health (CEPH). Students can choose from three tracks: Policy Analysis, Research, or Program Evaluation.




4 Elective Courses

Generalist Track

Students select 4 elective courses to design their degree to align with their public health career goals.

Epidemiology Focus Area – NEW!


Our epidemiology focus area is a convenient way for you to specialize your MPH degree. Students who choose to focus in epidemiology select 3 epidemiology electives and 1 general elective. Keep reading to learn more about whether our epidemiology focus area may be a good fit for you.
NEW – Epidemiology focus area
Epidemiology is the foundational science of public health focused on investigating causes and patterns of disease and injury. The Centers for Disease Control and Prevention (CDC) refers to epidemiologists as disease detectives who identify disease occurrence and patterns. The COVID-19 pandemic has demonstrated the critical role of epidemiologists in keeping communities informed and healthy.
Choosing this option is a simple and useful way for you to specialize your MPH degree in epidemiology.
*Graduates of the MPH program will receive a diploma stating "Master of Public Health." Please note that while a chosen focus area can be emphasized on a personal resume, the focus area title will not appear on your transcript or diploma. If you need additional documentation or verification, please contact an enrollment counselor.
This focus area is for public health students interested in:
Disease detection
Data collection
Data analysis
Epidemiological investigation
Biostatistical analysis
Epidemiology of any disease
Statistical basis for policy making
Epidemiology focus area learning outcomes
Students that choose the epidemiology focus area come out of the program with the knowledge to:
Apply epidemiological methods to the breadth of settings and situations in public health practice.
Select quantitative and qualitative data collection methods appropriate for a given public health context.
Analyze quantitative and qualitative data using biostatistics, informatics, computer-based programming and software, as appropriate.
Interpret results of data analysis for public health research, policy or practice.
Develop strategies for qualitative and quantitative data management.
An engaged, expert faculty
With a mission centered on teaching, research and service, the UNE MPH online program boasts a renowned faculty who are leaders in public health research with extensive collaborative partnerships in the public health community. The MPH faculty is a dynamic group of experienced public health practitioners, researchers and educators. Faculty actively engage with students from across the nation and around the world through online group discussion, email, and traditional office hours. Students are encouraged to get to know each other by working in online groups and discussions.
If you have any questions about the coursework or the program requirements, please speak to one of our enrollment counselors at the email or phone number below.