Faculty Spotlight: Tracey Spinato, MPH, Public Health Program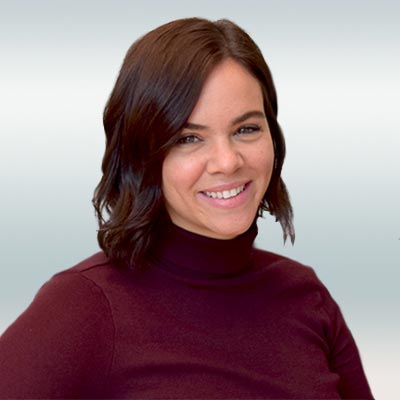 Tracey Spinato is the Assistant Director for Career Services in Public Health at CGPS. One of her functions is to be a resource for public health students as they seek out a field experience placement.
She is also a resource for UNE students and alumni who are beginning in the field of public health or for those who have decided to change their career to work within the public health field. Here, she tells us more about what she brings to UNE, and how she works with students to add value to their student experience.
Can you tell us a little about your background and what drew you to UNE Online?
I am originally from New Jersey, but I moved down to New Orleans in 2012 to pursue a dual Master of Social Work and Public Health from Tulane University. While I was a student, I interned with a community-based public health institute, where I mainly focused on trauma and mental health as a public health issue. It was fascinating work – I felt so fortunate to be able to utilize my skills in both fields.
At the end of my internship, I was hired on full-time and went on to manage the mental health and wellness division of the organization. In that role, I took on the responsibility of managing our graduate interns from both the public health and social work programs. It was a challenging role to take on in addition to my full-time responsibilities, but it was also incredibly rewarding. I came to really love that piece of my job. I enjoy mentoring students and being able to provide them with the professional skills they need to succeed in the field. I've had amazing mentors in my life and I want to be able to give back to others in the same way.
Having discovered a passion for working with this population, I eventually began teaching as an adjunct professor. I teach both a Professional Foundations course as well as a course that coincides with the students' internship experience. I found that I really loved working in higher education.
After being in New Orleans for seven years, I felt it was time to move back to be closer to family and friends on the east coast. I took a weekend trip over the summer to visit Portland, and I fell in love with the city. That same weekend I came across the job posting for this position. It was so aligned with my background and skills – it all felt like it was meant to be!
As the Assistant Director of Career Services, how do you work with students?
One of my main roles is to provide one-on-one career counseling for students. This can include providing help with resume and cover letter writing, career transition, job search strategy, and interviewing skills. A lot of the time, it starts with helping students identify their strengths and skills. So many students underestimate the value they can bring to a job or internship. I want the people I work with to walk away feeling confident.
I also facilitate professional development workshops and maintain a library of career-centric resources that students can access at any point. My role is really centered around helping people strategically plan the next steps on their career path. Graduate school requires that students invest a great deal of time and money; for most students, the ultimate goal is to begin or advance their career. As a career advisor, I want to help students bridge that gap between being a student and being a professional in the field.
LEARN MORE ABOUT UNE'S ONLINE MPH
With career websites, online job boards, and so many other online career resources, how is your position still relevant to our students?
It's interesting, and I have to admit that the thought crossed my mind when I was considering this position. But I have to say, there's so much on the internet nowadays, I think people can get lost in all of that. There is still a significant need for one-on-one help.
Sure, I can give my students a list of resources and walk away… but at the end of the day, students really value the fact that I am available to help them show the world who they are and how they can shine in the job market.
Things are always changing. I make it my business to stay up to date with current trends and keep a pulse on what employers and agencies are looking for.
What do you like best about working with UNE Online students?
I love working with people at this stage of their careers. It's exciting to see them evolve and grow.
A lot of students will come in and tell me that they don't really have any skills, or they don't know what they are doing. But then we sit down and begin talking about their experience – and there's so much to work with! They just don't realize it.
I help students recognize what they have to offer. It's so wonderful to see them at the end of a meeting, full of confidence in their skills and the realization that, yes, they are public health professionals.
Students who are completing their master's straight out of undergrad have all of this academic experience – and even a field experience under their belts – but they may not have any "professional" public health experience yet. They're kind of in this in-between stage. I help them transition into feeling like they are professionals, help them to communicate and assert themselves in professional environments.
Read more: What's the Difference Between the Applied Practice Experience (APE) and the Practicum?
Do you work with just current students or do you work with alumni as well?
I'm available to both students and alumni. This position is primarily focused on working with current students, but I am available to alumni of the program too.
You mentioned before that you have had some amazing mentors.
I was pretty lost when I entered college and I wasn't quite sure what to do with my life. I was fortunate to find a few amazing professors along the way who really helped to build my confidence and guide me towards graduate school. I'm so grateful to them.
I also found a great mentor while I was in graduate school who went on to be my clinical supervisor after I graduated. For social workers pursuing a clinical license (that would allow them to work in private practice), you have to go through two years of supervision. This process requires that you meet with a clinical supervisor for one hour, once a week, for two years. That process really makes you reflect on yourself as a professional and I was fortunate to have a supervisor that truly brought out the best in me. It was a profound experience. I learned how to be a confident and assertive professional. I really like paying that forward and having that role of helping people feel good about themselves and feel empowered to achieve their goals and dreams.
Any words of advice for students?
Finishing grad school and going out into the professional world can be daunting. I'm here to be a resource and a champion for our students. Our strong commitment to our students' success is palpable throughout their academic journey – and it continues after graduation!
Imagine yourself here! If you're thinking about the impact you could make by earning your MPH, take the first step now by downloading the guide to our online Graduate Programs in Public Health:
GPPH | Graduate Programs in Public Health | Master of Public Health Spotlight | public health
---