Dissertation
In our online Doctor of Education (Ed.D.) program, students focus on "applied research": that is, asking questions or "problem-posing" in organizational settings. These questions and this research culminates in a dissertation that reflects the student's professional goals and interests and meets the standards provided by the program.
Dissertations are conducted by graduate students with the support of instructors, advisors and committee members, and a peer study group. Doctoral students will be asked to apply theory to inform their individual development, for decision-making in their organizations, and to demonstrate engagement as leaders in the greater community. These dissertations can be qualitative, quantitative, or a mixed methods approach. 
Dissertation development takes place throughout the program and is developed in five stages:
Topic exploration that begins in the application essay.
Development of a literature review that will be reviewed by a designated sub-group of the graduate curriculum committee.
Successful completion of a dissertation proposal for presentation. The draft will include a statement of the problem to be studied, a literature review, and a proposed methodology.
Completion of the data collection.
Completion of a final dissertation that meets the standards provided by the program and reflects commonly accepted tenets of applied research. The final dissertation is presented to a committee using an online video conference service. After a successful presentation, a digital copy is uploaded to UNE's digital repository, DUNE. 
See examples of successful dissertations hosted on DUNE >>
After completing all coursework and successfully presenting their dissertation, students are welcome to join our annual Commencement ceremony typically held in May on our Portland, Maine campus.
Cohort-to-Research-Team Format
In the dissertation courses, each graduate cohort is winnowed into several four-to-six member research teams to support intensive drafting and revision of their dissertation proposals. Faculty advisors provide oversight throughout the data collection and analysis process, and then support the completion of the dissertation. Research teams meet online once each per month and also one-to-one with their advisor and/or second committee member throughout EDU 814 through EDU 817 with frequent phone/video conferencing. Such regularly scheduled virtual meetings with the chair and full committee ensure that timely and satisfactory progress is made in order to present the finished product at the end of the academic year.
Additional Support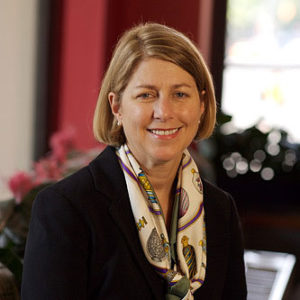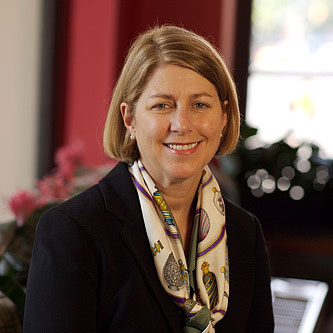 Learn more about Ed.D. Alumna, Bonnie Blake and her dissertation.
The faculty advisor serves as the lead instructor, the second committee member supports the advisor by providing consultation and editing of student writing. This two-person team is responsible for dissertation development. The third member is selected by the graduate student and serves as the site-based or local resource, and attends both the proposal and dissertation presentation.
Students' lead advisor and secondary advisor will review all related work and support students' development as a scholar. Each team makes different arrangements regarding "taking the lead" as first reader or methodologist, depending on the nature of the study and their expertise, and consultants are called upon as needed.
UNE Online's distinct and dedicated student support specialists will continue to reach out to students each term as they have throughout the program. Student support specialists are excellent resources who assist students with administrative tasks related to their program and respond to any immediate concerns students may have along the way. 
Do you have questions about the dissertation process or our 100% online Doctor of Education (Ed.D.)?
If you have any questions about the coursework or the program requirements, please speak to one of our enrollment counselors at the email or phone number below.