Health Informatics: Living at the Intersection of Health and Technology
Transforming Healthcare and Enhancing Patient Experience
Health Informatics connects people, technology and data to improve healthcare outcomes by supporting operational and technological advancements. A rapidly growing field, health informatics faces a shortage of qualified professionals. Check out the video to learn more about the exciting and innovative world of health informatics.
Take Your Health Informatics Career to the Next Level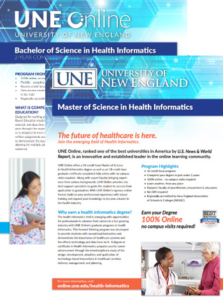 The field of Health Informatics is growing ten times faster than healthcare jobs overall, and is the ninth largest share of healthcare job postings. Position yourself as a leader in this cutting-edge field by earning a degree or certificate in health informatics with the University of New England.
As an established leader in the fields of health and medicine, UNE is excited to offer three new Health Informatics programs.
Learn more about the Master of Science in Health Informatics, the Graduate Certificate in Health Informatics, and the Bachelor of Science in Health Informatics.
Earn More
Health Informatics professionals with a Master's degree earn $20,000 more annually than their colleagues with a Bachelor's degree, according to a 2012 study. 
Expand your technical skill set and knowledge base to become a leader in the health industry. Make an immediate impact within your organization and play a vital role in the evolution of the healthcare industry as a whole. 
Our Health Informatics degree & certificate programs are designed to fit the schedules of busy professionals. Find your competitive edge in the rapidly changing healthcare environment with an advanced degree in Health Informatics.