How to Increase your Earning Potential with a Health Informatics Degree from
UNE

Online

Health Infor­mat­ics pro­fes­sion­als with a Master's degree earn $20,000 more annu­al­ly than their col­leagues with a Bachelor's degree, accord­ing to a 2012 study.

Expand your tech­ni­cal skill set and knowl­edge base to become a leader in the health indus­try. Make an imme­di­ate impact with­in your orga­ni­za­tion and play a vital role in the evo­lu­tion of the health­care indus­try as a whole.

Our Health Infor­mat­ics degree & cer­tifi­cate pro­grams are designed to fit the sched­ules of busy pro­fes­sion­als. Find your com­pet­i­tive edge in the rapid­ly chang­ing health­care envi­ron­ment with an advanced degree in Health Infor­mat­ics.
Take Your Health Informatics Career to the Next Level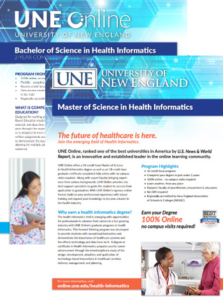 The field of Health Infor­mat­ics is grow­ing ten times faster than health­care jobs over­all, and is the ninth largest share of health­care job post­ings. Posi­tion your­self as a leader in this cut­ting-edge field by earn­ing a degree or cer­tifi­cate in health infor­mat­ics with the Uni­ver­si­ty of New Eng­land.
As an estab­lished leader in the fields of health and med­i­cine, UNE is excit­ed to offer three new Health Infor­mat­ics pro­grams.
Learn more about the Mas­ter of Sci­ence in Health Infor­mat­ics and the Grad­u­ate Cer­tifi­cate in Health Infor­mat­ics.
Health Informatics: Living at the Intersection of Health and Technology
Transforming Healthcare and Enhancing Patient Experience
Our pro­gram has been built to align with employ­er needs, pro­duc­ing health­care pro­fes­sion­als ready to pro­vide qual­i­ty, safe, and effi­cient health­care. Learn more about how we can help you meet your per­son­al and pro­fes­sion­al goals by click­ing on the video below.