Graduate Programs in Public Health
Master of Public Health and Graduate Certificate in Public Health
The University of New England offers two 100% online graduate programs in public health. Students can now earn a Master of Public Health degree (MPH) or a Graduate Certificate in Public Health (GCPH) full or part-time, with all of the courses offered in a distance learning online format.
Master of Public Health – MPH
The 46-credit hour MPH curriculum is designed to enhance students' skills in a variety of professional areas including analysis, communication, international health, program development and planning, financial management, leadership, policy, ethics and law.
Click to learn more about the MPH program
Graduate Certificate in Public Health – GCPH
This 18-credit hour program provides students with the core public health concepts they need to either enhance their professional knowledge or to pursue a graduate degree in the field.
Click to learn more about the GCPH program
These very convenient, flexible programs, which are focused on practice and management, provide students with the basic knowledge, skills, and values to gain employment or get promoted in the burgeoning field of public health. With our medical school and our high concentration of health professions degrees, UNE is the perfect school to choose to pursue your graduate study in public health.
About UNE's public health CEPH accreditation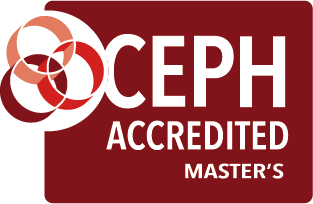 In June of 2019, the Council on Education for Public Health (CEPH) awarded the University of New England's Graduate Programs in Public Health a 7-year accreditation – the maximum amount of time possible under CEPH guidelines.
UNE's Graduate Programs in Public Health first earned CEPH accreditation in October of 2011, and have been continuously accredited since that time. To learn more about CEPH accreditation, click here.
Additional public health program resources


If you have any questions about the coursework or the program requirements, please speak to one of our enrollment counselors at the email or phone number below.