Accredited by the Council on Education for Public Health (CEPH)
Affirming the quality of UNE's Public Health program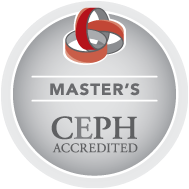 The Council on Education for Public Health (CEPH) is an independent agency recognized by the US Department of Education to accredit schools of public health and public health programs offered in settings other than schools of public health. 
About UNE's public health CEPH accreditation
The Master of Public Health and Graduate Certificate in Public Health programs at the University of New England are accredited by the Council on Education for Public Health (CEPH). Click here for a statement from UNE president regarding GPPH's CEPH accreditation status.
UNE's official CEPH self-study and final CEPH team report are available upon request. To obtain a copy of the reports please contact Nang Tin Maung at ntinmaung@une.edu.
The importance of CEPH accreditation
The University of New England is listed on CEPH's "Schools of Public Health and Public Health Programs" list. To view UNE's listing on the official CEPH website, click here. The CEPH website also has an extensive FAQ section on the importance of accreditation. 
CEPH accreditation attests to the quality of UNE's educational program
For graduates, it promotes professional mobility and enhances employment opportunities in positions that base eligibility upon graduation from an accredited school or program.
For prospective students and their parents, accreditation serves a consumer protection purpose. It provides assurance that the school or program has been evaluated and has met accepted standards established by and with the profession.
For prospective employers, it provides assurance that the curriculum covers essential skills and knowledge needed for today's jobs.
For public health workers, it involves practitioners in the establishment of standards and assures that educational requirements reflect the current training needs of the profession.
For the profession, it advances the field by promoting standards of practice and advocating rigorous preparation.