Delta Omega Honorary Society in Public Health 
UNE Chapter, Gamma Chi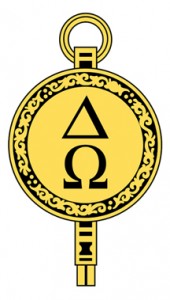 Founded in 1924, Delta Omega is a national honorary society comprised of CEPH-accredited programs and schools of public health. Delta Omega exists to encourage research and scholarship among graduate students of public health and to recognize attainment and achievement in the field of public health. With over 50 active chapters, Delta Omega and its members are dedicated to ensuring the quality of the field of public health and to the protection and advancement of the health of all people.
UNE's chapter of Delta Omega, Gamma Chi, was established in the spring of 2014. On an annual basis, a select number of top-performing Master of Public Health (MPH) students are granted membership into Gamma Chi. Members enjoy a variety of benefits, including access to a number of leadership development and publication opportunities, professional networking events, and discounted resources.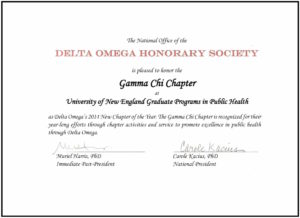 In the fall of 2014, Gamma Chi was named the "New Chapter of the Year" by the Delta Omega National Council. This honor is awarded to new chapters, established for three years or less, that have displayed the most activity, service, and participation.
Links
Gamma Chi Member List
2018 Inductees
Lizbeth Barriteau
Emily Bartlett
Whitney Bickford
Robert Cooney
Rowland Dada
Christina Dematteo
Brittany Grant
Thomas Harper
Katharine Hoffman
Shantricia Johnson-Colbert
Sheenamelia Jones
Ugochi Kalu
Angela Mason
Ariella Ortiz
Lorinda Payton
Stephanie Rodriguez-Moser
Melanie Rogers
Iris Perez
Jaideep Sandhu
Aloma Spencer-Johnson
Courtney Vannah
Carley Anderson
Adam Barefoot
Alison Braid
Lauren Daniels
Tessa Donoghue-Neider
Francisca Essandoh
Colleen Loveless
Clare O'Grady
Erica Sarapas
Cristina Schreckinger Rodas
Ryan Uy
Lisa Vreeland
2016 Inductees
Nicole Kaspar
Amanda Langley
Jeremie Laraque-Two Elk
Brooke Libby
Priscilla Marbell
Richard Meinking
Kenneth Mensah
Samantha Paradis
Deborah Taylor
Catherine Thiel
Jennifer Autodore
Craig Booker
Nancy Brundage
Stephanie Deivert
Ashley Devereaux
Bridget Furchak
Caroline Panter
Brittany Roy
Renee Bousquet
Alexjandro Daviano
Doreen Fanton
Mona Haimour
Leslie Ouelette
Nicole Corso
Dada Anidiobu
Kelly McLaughlin
Peter Herrick

Charles Snyder

Michael Chao

Collyn Baeder

Zoe Hull
2014 Inductees
Zaira Chaudhry
Leah Coplon
Jordan Ehni
Kelly Hickman
Ian Imbert
John Macdonald
Gretchen Pianka
Heather Rhodes