Master of Public Health: Alumni Survey Results
What public health jobs did MPH alumni get after graduation?
Every year, the University of New England's School of Community and Population Health surveys the MPH graduates to check in. Results below are from 2009 through 2014.
Fields of employment for alumni with a master's in public health
85% of the alumni surveyed are employed in the fields of health care, government, non profit and university / research.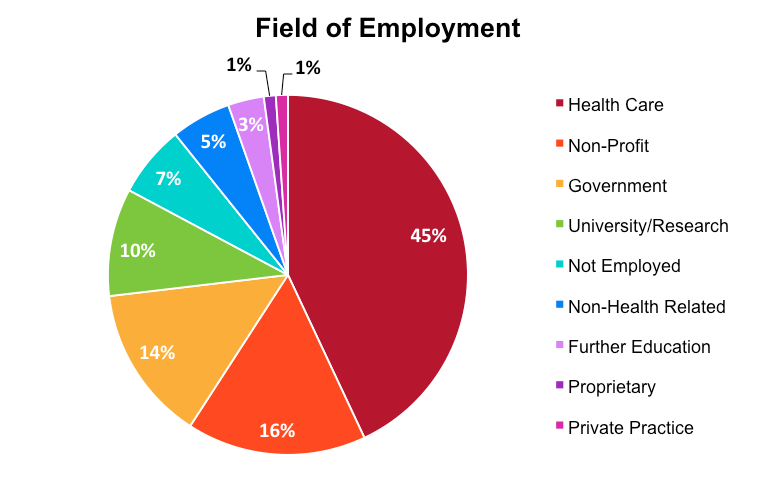 Download this image as a printable PDF: MPH Alumni Survey Results

Public health jobs held – a wide variety
Biostatistician
Clinical Research Coordinator
Director of the Division of Infectious Disease
Epidemiologist
Family Medicine Resident
Housing Inspector
Health Coach
Paramedic
Pharmacist
Public Health Director
Registered Nurse
Safety & Environmental Manager
School & Youth Program Manager
Wellness Program Coordinator
University Professor
Places of public health employment – a diverse selection
Alaska Center for Public Policy, AK
AT Still University School of Health Management, AZ
American Specialty Health, CA
Abbott Vascular, CA
United Health Group, CT
Diagnostic Resources, FL
Midwestern University, IL
Health Data Specialists, KS
Department of Public Health, MA
General Hospital, MA
Health Dialog, MA
Department of Education, ME
Center for Disease Control and Prevention, ME
Healthy Community Coalition, ME
Healthy Communities of the Capital Area, ME
Celgene Corporation Medical Research Operations, NJ
Jefferson County Public Health Service, NY
Fort Edward Rescue, NY
Albany Medical Center, NY
Peacehealth Laboratories, OR
Pinnacle Health Hospitals, PA
Houston Department of Health and Human Services, TX
Fletcher Allen Health Care, VT