Resources for Current and Prospective Public Health Students
Helping you navigate the world of online learning
At UNE, we are committed to providing our students with the highest level of academic and personal support possible. Our online public health programs were created with the working professional in mind, and as such we realize that students need easy access to resources that can help them manage the degree requirements, along with their career and home life.
Student resources – a quick list
A successful student is support – from application, to acceptance, and beyond!
UNE Online offers its students a variety of academic, technical, and administrative support to assist help our online students succeed in their chosen program. 
Application: As soon as you begin your application, a dedicated Enrollment Counselor will guide you throughout the entire application process.
Acceptance: Upon your acceptance to the Public Health program, your dedicated Student Support Specialist will be there to provide support and answer any questions you may have – from questions on textbooks, to registration, to financial aid and more.
This support is provided in addition to the tremendous support you receive from program staff, your academic advisor, course instructors, and fellow classmates.
Public Health Program Support for Current Students
Upon acceptance, your student support specialist will be your primary contact at the Online College of Graduate & Professional Studies.
Our student support specialists understand that you need fast and easy access to resources to help you manage your degree requirements along with your career and home life, and are committed to providing you and all of our online students with the highest level of academic and personal support.
Your dedicated Student Support Specialist can help you with the following:
Notifications about textbooks and other course resources
Posting announcements about course or schedule revisions
Assistance with course registration
Change of address, phone, or email
Contacting a faculty member
Navigating the course site or using course tools
General course information or questions
And More!
Dedicated Public Health Student Support Specialists
Emily Roach

Student Support Specialist
(207) 221-4949 | eroach@une.edu

Emily ensures success for the Master of Public Health student populations.

Hayley Kinsella

Senior Student Support Specialist
(207) 221-4944 | hkinsella@une.edu

Hayley ensures success for the Health Informatics, Applied Nutrition and Public Health student populations.

Zachary York

Student Support Specialist
(207) 221-4922 | zyork1@une.edu

Zac ensures success for the Master of Public Health student populations.
Student Association for Public Health (SAPH)
UNE's Student Association for Public Health was formed in the 2009-2010 academic year by public health students aiming to open the lines of communication between faculty and students, and to participate in the development of the public health program.
SAPH is intended to be the voice of the students. Participation in SAPH allows students to communicate their thoughts and recommendations about the public health curriculum. All students accepted into the Public Health Program are automatically granted membership in SAPH.
Member meetings are conducted online and recorded, at the direction of the SAPH President, using the free web-conferencing and collaboration tool available through UNE called Blackboard Collaborate.
The President of SAPH, or an appointed representative, is an invited member of the SCPH Advisory Committee and SCPH Program Faculty Meetings. Students are encouraged to forward their ideas and discussion topics to the President and other officers. Comments and suggestions can also be forwarded directly to the Program Manager, Laudan Ghayebi (lghayebi@une.edu).
Click here for more about the Student Association for Public Health.
Ghana health partnership and immersion program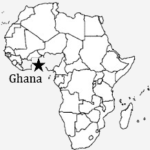 The Mission of the Ghana Health Partnership (GHP) is to improve the health care capacity and advance health status for the population of Ghana through joint and collaborative research, education and programs in health promotion, care management, and workforce development. UNE, the Ghana Health Service, the University of Cape Coast, and several US based health organizations have all partnered in this movement.
The Ghana Health Mission began in 1996 at the University of Massachusetts, and it was brought to UNE in 2008. Since its inception, UNE missions have included interprofessional teams of health professions students and faculty.
Click here to learn more about the Ghana immersion program.