Student Spotlight: Angsana (Angie) Spiller, MSW Program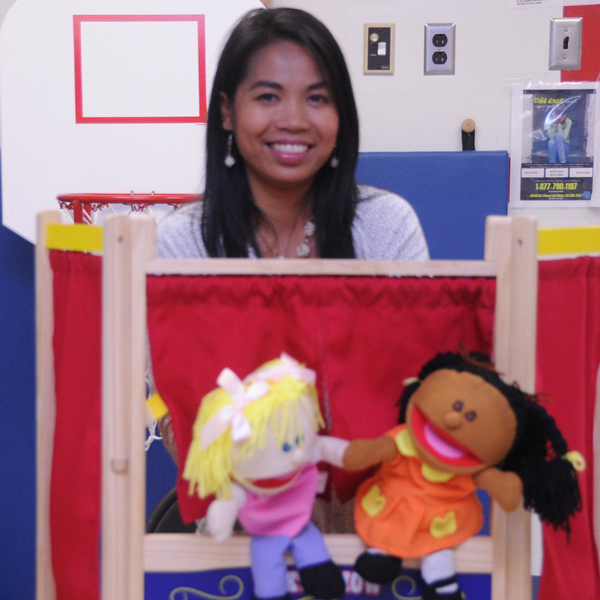 Angie Spiller is a student in the Master of Social Work program here at UNE Online. We spoke to her recently about what led her to earn her MSW, and how she applies her knowledge of the field on a daily basis.
Can you tell me a little bit about yourself, and what encouraged you to pursue your Master's in Social Work?
I am originally from Thailand, where I was a marine in a skydiving unit. When I got married we moved to the United States, and I was not able to speak or understand English at all. After some time, I decided to pursue a Master of Psychology, and when I earned that master's degree, I went into the teaching field for a few years. I am also the mother of two – I have a five-year-old, and a nine-year-old.
What really influenced me to enter the social work field was the Sandy Hook incident. I had just had my second baby, and my older child was in daycare. I remember seeing the incident on the news, and I was terrified to send my children to school. I lost a lot of sleep over it, but I also knew that it wasn't healthy to keep worrying about it, and I knew that I could not just stay home and worry about the dangers that my children might face each day.
So I thought of what I could do and ways that I could personally make changes, and I decided to go back to school for social work and help those who have mental health issues. I want to be an agent of change. If I can help just one person and prevent them from killing 30-40 children, then it's worth it.
When I found the UNE Online Social Work program I knew that was my answer.
It's a challenge, trying to balance full-time work, being a mom, and being a volunteer for several organizations. I teach and perform for Thai community cultural events, and I also run an online support group for the Thai community.
LEARN MORE ABOUT EARNING YOUR MSW ONLINE
What drives you to do so much volunteering?
As an immigrant, I had to figure out a lot on my own. I had a lot of culture shock. And even though now I can drive, I have a good job, and I can speak English fluently, I still feel the struggle. I can't imagine those who come to the country without support or the knowledge of how things work here.
I don't want anyone to experience what I have struggled with, so I try to be that agent of change and try to bring positivity to their lives.
What type of work do you do professionally?
I work for the Army Family Advocacy Program, as a Care and Support Specialist. My field placement experiences actually led to my job offer here. We focus on child abuse prevention, and we are also domestic violence awareness advocates. I love advocating for and educating our military families and children because I believe that even though the family is the smallest unit, it is the most important unit.
We help educate parents on how to create a safe and positive home environment where they can raise their children comfortably and happily. If kids don't have a good environment to grow up in, the outcomes are not as good. There are a lot of issues that we have nowadays that could be prevented if we started with good families and good homes for kids to grow up in.
I'm trying to help to provide a happy and healthy environment for families to be together and to experience something together. When families are able to provide a safe environment for the children to grow up in and create good memories together, everyone's happier.
Read more: Children of Abuse – How Social Workers Help Them Heal
Can you tell me a little about your field placement experiences?
I did both of my field placement experiences in the Army Family Advocacy Program, in two different divisions. My first field experience was in a generalist position, where I worked on the care and support side of the agency.
My second field experience was more specialized, working with victims and advocating for the prevention of domestic violence. From the beginning, I received a lot of support from the agency, and they trusted me to bring my own skills and experience to the program. During this field placement, I also participated in several campaigns, bringing the community together. We facilitated classes, did counseling, hosted support and empowerment groups, and held educational domestic violence workshops.
We try to bring the community into the program as much as possible because we know that if this message only comes from us, it will not make as much of a difference. We want everyone to be aware of domestic violence. In a military setting, you have spouses located all over the world – and some of them don't even speak English. Some of them have been abused through the withholding of information. They don't know their rights, they don't have resources, and they don't have support systems. We try to educate the families and the victims, that if you are experiencing verbal abuse or your husband doesn't let you go to work, or he doesn't want you to hang out with friends or make connections with anyone – that is not ok.
We try to educate our military families about their choices, their rights, their support system, and the resources that we have here. We also provide a safe space for them to just come here, and we meet them where they are at. If they are ready to make a change and leave their abuser, then we help them. If they are not ready yet, we work with them and provide empowerment tools. We help them get together with other victims to share their experiences. We provide stress reduction activities and connect clients to local agencies in several areas that they might be working on. If there is something the family needs and the military does not provide it, we reach out to our local resources to see if those resources can provide what the family needs.
Education is a big piece of what I do. We do one particular domestic violence briefing where we go to the unit, do a presentation, and show a video. Sometimes they laugh at the video without realizing that that is actually domestic violence. So we raise awareness by educating the service members and the families that if you see something like this, you might think it's funny, but it is not ok. We let them know what the appropriate next step is if something like this occurs, and who would be the point of contact that they should reach out to.
Sometimes we have clients that come to us, but they don't meet the criteria where we can help them because they're not in a military family or military-affiliated. In those cases, we aren't able to provide resources, but we do connect the client to local agencies. We walk them through the process and make sure they connect and take over the case.
At the end of the day, you know that you are making changes. That is what I am here for.
What do you like about the UNE Online Master of Social Work program?
I have to admit that I was worried that I wouldn't get enough support in this program because I've done online classes before and I didn't really enjoy them. But with UNE I feel that I receive a lot of support. My instructors have worked with me and have been accommodating with anything I needed. Communication has been really easy. I was nervous before starting this program, but I'm so glad I did it.
I know that social work is the right field for me, and I'm thankful that I found UNE.
Read more: The MSW Fieldwork Experience at UNE Online
What would want someone know before starting this program?
You have to have a heart for it. I love UNE because this school provides a lot of support. You can't do this alone. Social work can be very stressful, but it's rewarding. A lot of people do online school for a reason. They either have a job, or they might be parents, or they are in a military family and they have to move around a lot, so staying in one place and completing a program may not be an option for them. But if you have the heart for it, go for it.
My philosophy is, if you want to make change, don't just complain. You will be surprised at your potential, and how much you can do to effect change. There's hope, just don't give up. Whatever you believe you can do, keep going and you will make it happen. I've come from not speaking English at all to maintaining a 4.0 GPA. It's not easy with two kids and a full time job, but if you believe you can do it, you can do it.
From the very beginning of this program, my family and I were aware that this was not going to be an easy road. But I am here to make changes, and here I am right now, making change every single day.
---
If you are interested in pursuing your Master's in Social Work, or even if you're simply interested in discussing the program, please reach out to an Enrollment Counselor at (207) 221-4143 or via email at socialworkonline@une.edu.
Interested in applying to UNE Online? The sooner you apply, the sooner you hear back. Fill out an online application today at online.une.edu/gateway-portal-page – we look forward to hearing from you!
Tags:
Master of Social Work | Master of Social Work Spotlight | MSW | MSW Student Spotlight | Social Work
---