Faculty Spotlight: Dr. Brianna Parsons – Education Program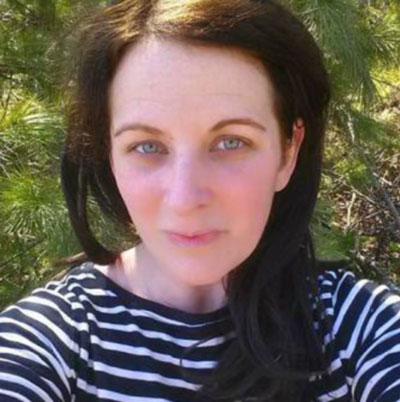 Dr. Brianna Parsons is adored by her students. She is an Adjunct Assistant Lecturer in the Education Department, where in addition to advising Ed.D. candidates, she develops and teaches online courses, focusing on writing, scholarship, and research.
We asked her some questions recently about teaching online, and how she advises her students throughout their dissertation process.
How did you get interested in the field of Education?
Education has always been a big part of my family. Growing up, my dad was an instructor and then Dean of a community college, so I got to hang out in the classroom quite a bit. My mom also works at a university, so in college, I had the opportunity to take undergraduate classes with her. After my undergrad, I had the opportunity to teach with my dad.
Those experiences lead me to teach at community college. I ended up staying there for 13 years, during which time I finished my own Ed.D. and learned that I really enjoyed research and the concept behind the scholar-practitioner model. When I saw that UNE Online had an opening to teach, I applied!
Can you tell me a little about the process of advising Ed.D. students?
When a candidate begins their academic journey toward their Ed.D., we ask them to have a topic in mind as they enter the program. Their topic is revisited along the way as we work on different processes and concepts within the dissertation, and work on building a knowledge base of leadership, practice, and theory. Candidates experience everything from qualitative research methods to producing first drafts of literature reviews as well as an understanding of what a conceptual and theoretical framework is. We also strive to teach how important alignment is; understanding how research questions impact methodology (and vice versa), and how their dissertation can be used for growth and development.
The Ed.D. coursework is very cyclic, iterative and holistic because it's a part the dissertation process, but at the same time we allow for the deconstruction from the whole to the parts; it's a 360 degree view of what it means to be not only an Ed.D. student but also a burgeoning scholar and practitioner.
The role of an advisor is to teach and guide, and we're also there to support idea generation and inquiry. Sometimes ideas are exciting, and sometimes they're a little bit messy, but the finished result is not only a polished dissertation but a well-rounded individual who understands how they can impact leadership and change within their own organization.
How do you work with students in an advising capacity?
There's so much that goes into it the process – and my role changes almost on a daily basis! How I advise really varies depending on what my students need. Sometimes it's simply an ear or acting as a sounding board to generate ideas and discussion. Other times, candidates are looking for feedback on how they can take their ideas and transform them into a purposeful and meaningful research topic. Other times, we work on their research skills, or on their scholarly writing.
For every study published, there has to be a need – it has to fill a gap in what is already known about the topic and add new information and insight. We also make sure that the work is timely, purposeful and has the potential for positive change and growth. As a researcher, we have to value human subjects and human experience and make ethical and sound choices in our research processes.
The dissertation is not only about the end product. As an advisor or as an Ed.D faculty member, you're also working on skill development for the candidate, so that when their dissertation is complete and they are no longer part of the UNE student body, they can transfer the skills they have learned in the program into their day to day life. They use their knowledge about leadership, growth, research, and inquiry to continue to make positive change within their organizations.
Getting your Ed.D is a journey unlike any other – and I tell all of my candidates that they will not the be the same person that they are now when they leave, simply because they learn so much about themselves in the process. They learn about not only their own skills as a researcher but as a leader. And it's not an easy road – there's a lot to it.
In your teaching, how do you foster a sense of community among your online students?
I work to create a community through open honest communication, and by letting them know that their entire journey is a collaborative effort. The concept of "being there" is not necessarily forcing your way into a situation, it's allowing students to have the confidence in knowing that they can contact you for any issues, any questions, or even any sort of celebrations.
I actually see the entire journey as one to be celebrated. And I really think that that helps folks to become comfortable with me as an instructor. Students know they can reach out if they're struggling, even if they're not in my class. To do that, there's always a personal element involved. I've found that by sharing a bit of ourselves it humanizes everyone.
We also hold group sessions, that, again, go back to the idea of communication. They're a way for everyone to talk, and a way for folks to get to know one another.
I also do a lot of one on one advising, where we talk about the good, but also about the struggles. I find that it helps to diversify how I'm available to students. And sometimes, it's simply knowing when you shouldn't talk about school because life happens. And we can't forget that human element, and that we are all connected in this journey. We're very fortunate at UNE Online, because as we're not a large program, so we really get to know one another. By the time I've had students for a couple of classes, they know me. They know about my life, I know about their life, and it makes that communication very much a two-way street. It's open, it's honest, and it's actually very fun!
And that goes for the dissertation process as well as the advising. I treat all proposal and dissertation presentations as celebrations – because they are! It's an achievement to not only get through the program but to present a proposal. To present your dissertation is to present your voice as a scholar, and I don't see that as a trial or a gauntlet to be run.
How long is the advising process?
Ed.D. students start with EDU 801, followed by 802, 803, and so on, up through EDU 813. When they're finished with EDU 813, we have them for approximately four dissertation classes; EDU 814 – 817. The dissertation courses are eight weeks long, the same duration as all of our other online courses.
All told, an Ed.D. student's journey is about three and a half years, at which time they have an actual rough draft of their dissertation in hand. There is a lot of excitement and forward momentum at that point, and it continues through the advising process.
What do you feel sets the UNE Online Ed.D. program apart?
I think that what sets UNE Online apart is the individual student attention. From the faculty to student support, to the program administration, there's a family feel to students' experiences at UNE Online. Everyone here is working toward the success of the student.
Who would be a typical person looking to earn an Ed.D.?
There's really no typical student. Our student population crosses so many fields! We have candidates who are superintendents of schools, military folks, people in the healthcare sector, and people who operate nonprofit organizations of many kinds. We also have a fairly robust international student population, and they're engaged in many different fields as well.
The possibilities of what you can do with an Ed.D are limitless, and I believe that the diverse backgrounds of our students really shows that.
What do you like most about UNE students?
It's difficult to pick just one thing, but I'd have to say it's their overarching commitment to not only their success in the program but to forward momentum and upward mobility in their own lives. We have a truly diverse population of students and they each bring their own unique skill set to the program, and yet the collaboration that I've seen within the classes, and then into the advising phase, is second to none. I also find my students to be a very fun, very engaged, and very thoughtful group of people.
If there's one thing you would want a potential student to know, before starting the Ed.D program, what would it be?
I'd like them to know that they will learn more about themselves than they ever thought possible. And if they're looking for growth and opportunity, getting an Ed.D. is a fantastic way to grow and evolve – not only as a person but as a leader in their field.
---
If you are interested in the Ed.D. program at UNE Online, or if you would like more information, please reach out to an Enrollment Counselor at (800) 994-2804 or via email at education@une.edu or fill out an online application now at online.une.edu/gateway-portal-page.
---