Social Workers Help with Independence and Reintegration after Abuse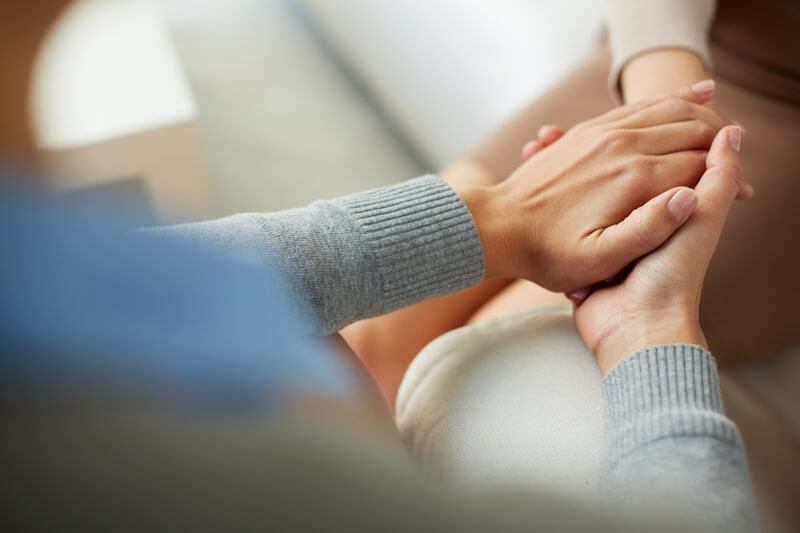 What are the next steps after sex trafficking or domestic violence? Social workers help people regain their independence and reintegrate into society after escaping domestic violence or sex trafficking.
How social workers help those who've escaped domestic violence or sex trafficking make the transition and heal
For people who have experienced sex trafficking or domestic violence, escaping their dangerous circumstances is only the first step. Fresh challenges await in the struggle to heal and create stable lives afterward. Yet rehabilitation and reintegration resources for these victims are often limited, stretched thin, or nonexistent.
Enter social workers.
With their knowledge of trauma-based therapies, connections to community resources, awareness of intersectionality (including race, class, gender, and ethnicity), and passion for social justice, social workers play a much-needed role: They fill the gaps between institutional resources and help people develop the skills they need to transition to independent, thriving lives.
Easing the transition to a shelter
After escape from domestic violence or sex trafficking, a temporary shelter often is the next step. Yet living with many people, often in close quarters, can be a challenge for women in particular. It's common for women to exhibit psychological and behavioral effects of exploitation and abuse: fear and distrust of strangers, poor communication skills, difficulty sleeping and/or nightmares, and difficulty with adjustments.
Social workers can help through cognitive behavioral therapy in specific areas and trauma work that concentrates on "addressing underlying causes and understanding that addressing the root problem can help cure present symptoms," in the words of social worker Sarah Elizabeth Pahman, who helps girls and women who've escaped sex trafficking.
Helping to protect abuse victims online and offline
Separation from an abusive relationship is more of a process than a one-time event, and it's a time when abused women and their children are at an increased risk of violence. During this critical period, social workers can connect abuse victims to resources for housing, employment, healthcare, and legal assistance. This includes education on safeguarding themselves against the ways abusers might stalk them through cell phones, GPS, social media, or the Internet.
Psychologically, social workers can help abuse victims develop resistance strategies for separation and safety. One example is through retelling their story of intimate partner violence in a way that emphasizes a woman's autonomy and identity as a survivor. In their roles as advocates for social justice, social workers can also bring the structural and cultural constraints that people in abusive relationships face to the attention of the community and government.
Connecting sex trafficking victims to finance and life skills
People who've escaped domestic violence or sex trafficking often re-enter the world with little to no resources, money, or assets. To make matters even more challenging, many came from lives of limited education and economic means to begin with and may encounter isolation or discrimination because of their abuse – especially if they are returning to more traditional or patriarchal communities.
By virtue of their community connections, social workers can provide vital access to education, employment, vocational training, seed money for establishing a self-sufficient livelihood, and more through culturally appropriate resources and programs. Sometimes these programs involve mentorship by peers who have undergone similar experiences in domestic violence or sex trafficking.
Just as importantly, through therapies such as cognitive restructuring social workers can empower individuals to reframe their identities – helping them transition from perceiving themselves as victims or sexual objects to seeing themselves as survivors with improved self-esteem and promising futures ahead of them. These tactics can help them deal with the overarching psychological effects – including social withdrawal, depression, anxiety, and lack of aspiration – that may hold them back from succeeding in their next stages of life.
Improving the mediation process
Many states require couples to seek mediation for matters such as family custody prior to court intervention. This means that victims who've survived domestic abuse are forced to face and interact with the individuals who subjected them to physical violence or controlling behaviors such as intimidation, isolation, threats, constant supervision, and manipulation.
In such situations, social workers can provide support on many fronts: helping family mediators identify signs of domestic violence, pushing the system at large to adjust to domestic violence issues, and perhaps most importantly, assisting the victims in developing coping strategies for the mediation experience.
---
If you are interested in pursuing your Master's in Social Work, or even if you're simply interested in discussing the program, please reach out to an Enrollment Counselor at (207) 221-4143 or via email at socialworkonline@une.edu.
Interested in applying to UNE Online? The sooner you apply, the sooner you hear back. Fill out an online application today at online.une.edu/gateway-portal-page – we look forward to hearing from you!
Tags:
Master of Social Work | MSW | Social Work
---