Announcing – NEW – Health Informatics Focus Areas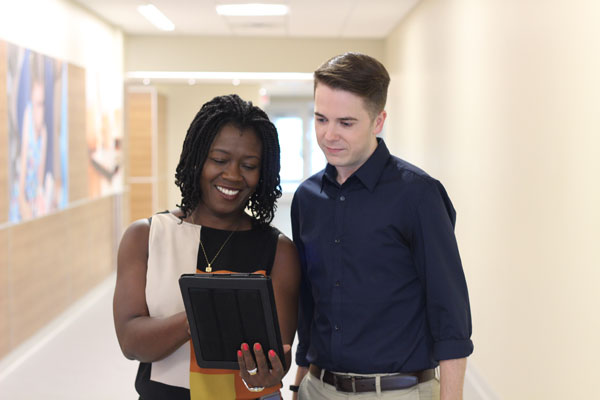 In celebration of National Health IT week, we are pleased to announce the creation of three NEW focus areas for our Master of Science in Health Informatics degree.
Healthcare Leadership
Health Data Analytics
Training and Development
These three focus areas complement our existing Master of Science in Health Informatics degree, making the degree even more of a positive return on investment.
Students can opt to pursue one of the three focus areas or complete their degree as a Generalist. More about each focus area:
1. Healthcare Leadership Focus Area
The Healthcare Leadership focus area prepares the Masters of Health Informatics students with the knowledge and skills ideally suited for a leadership position in healthcare. Students will obtain the skills needed to be successful leaders including; leadership skills and tactics, strategic thinking, development of initiatives, strategic planning, financial management, and healthcare supply chain.
2. Health Data Analytics Focus Area
This focus area is a rigorous investigation of health data analytics which will prepare students for careers in data science and predictive analytics. Learners will obtain relevant skills including data mining and warehousing, statistical computing and visualization, predictive modeling, and machine learning.
3. Training and Development Focus Area
In this focus area, students are exposed to concepts which will prepare them for careers in training and educational programming for healthcare technology integration. Students explore adult learning theory as it pertains to training in IT settings and master communication techniques to inform their instructional programming.
Click here to see the academic plan for the Master of Science in Health Informatics including the overall course plan, required courses, and optional focus area courses.
Our aim is to deliver highly relevant degrees that meet industry demands and to prepare our students to become leaders in the health informatics field, one of the highest growth fields in healthcare today.
---
If you are interested in pursuing a career in Health Informatics, or if you're simply interested in discussing the program, please reach out to an Enrollment Counselor at (855) 751-4445 or via email at informatics@une.edu.
Or, fill out an online application today at online.une.edu/gateway-portal-page – we look forward to hearing from you!
Tags:
Graduate Programs in Health Informatics | Health Informatics
---