Changes in the MPH Curriculum at UNE Online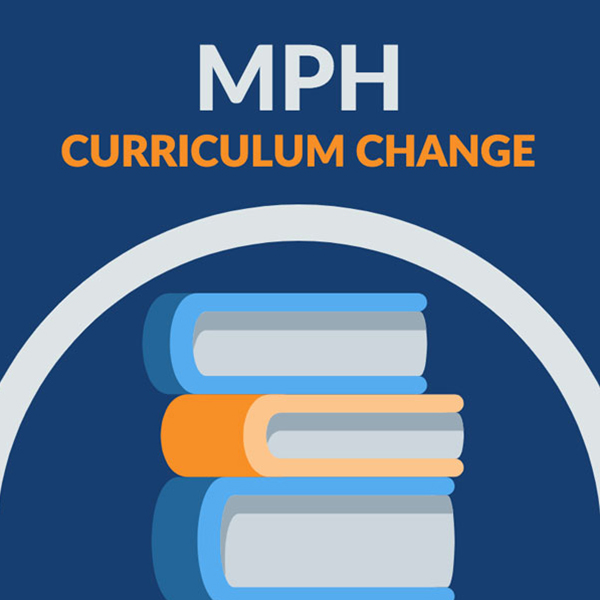 The Graduate Programs in Public Health at UNE Online is pleased to announce changes to the MPH curriculum for students who started in or after May 2018. These changes are to make sure that our curriculum aligns with new competencies published by the Council on Education for Public Health (CEPH) in 2016, and to improve student outcomes.
That said, if you began your program earlier, it would still be beneficial to review the changes to the MPH curriculum and follow the suggested order of classes, which is designed to enhance your learning and success. Other changes have taken place program-wide or within electives, and are of benefit to all students no matter when you began your studies with UNE Online.
Read more: CEPH Accreditation in UNE Online Public Health Programs
Changes required for MPH students only
These curriculum changes are required only for students pursuing their Master's of Public Health (MPH). Students who are enrolled in the Graduate Certificate in Public Health (GCPH) program are not affected at this time.
New suggested order of classes, new courses, more frequency – for everyone
We are now offering all courses more often. Each public health course will now be held each semester; three times a year. This will allow our students to progress through the courses in a logical order, accumulating the prerequisite knowledge needed to be successful in the next class.
If you began prior to May 2018
You may remember structuring your elective courses around "buckets" or "groups." You will no longer be held to this schedule. As long as all required courses have been taken, your core competencies will have been met. This means that you are not bound to a certain set of electives to cover these competencies. You may take whichever electives you feel will fit your academic and career goals most closely.
Some new curricular requirements will not affect those students who enrolled before Summer 2018, but we want to make everyone aware of the changes and reasoning behind them so you can make informed decisions about incorporating the new requirements into your plan if you choose.
Improved educational experience
Please take the time to review the MPH Curriculum change document and reach out to your Student Support Specialist or Academic Advisor if you have any questions.
We are very excited about these changes, and we are confident that our students will experience and appreciate the benefits that these changes to the MPH curriculum will bring.
 
Click to view Curriculum Change Document
 
---
If you are interested in more information about the Graduate Programs in Public Health please reach out to an Enrollment Counselor at 1(855) 325-0895 or via email at publichealth@une.edu.
Or, if you're ready to apply, fill out your online application at online.une.edu/gateway-portal-page.
Tags:
Graduate Certificate in Public Health | Graduate Programs in Public Health | Master's in Public Health | MPH
---