Student Spotlight: Dr. Puneet Saini, MPH Program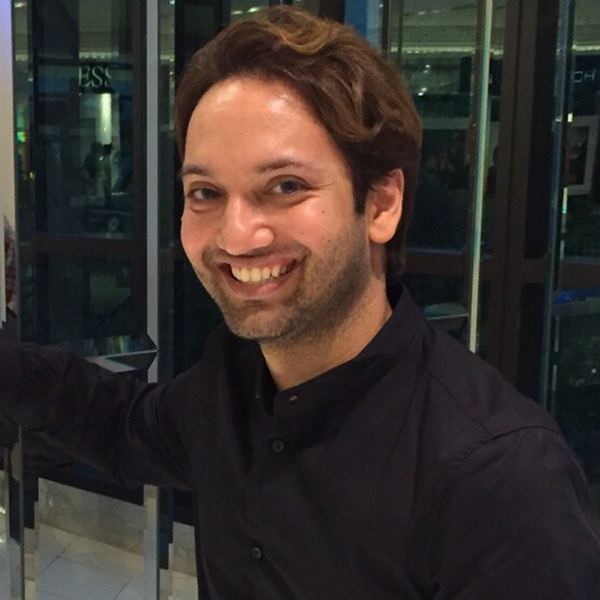 Dr. Puneet Saini is a native of Madison, WI, and a second-year MPH student at UNE Online. Having completed his M.D., he is looking to complement and add more value to his education, and also delve more deeply into the realms of public administration and policy-making in order to bring about change on a global level.
Can you tell me a little bit about yourself, and what encouraged you to pursue your Master's in Public Health?
I was born in America and come from a multi-cultural family. Growing up in this diverse mix of different ethnicities and cultures made me very aware of the world, and I learned early on to respect other people's values, ideas, and ways of life.
I come from a family of doctors, and I graduated medical school myself, but at some point, I realized that something was missing. I wanted to see what else was out there, so after doing some research, I felt that a Master in Public Health was the missing component. Medicine focuses on the singular person, but public health focuses on the community as a whole. I think one half of the coin was there with medical school, and I feel that this MPH degree will complete the other half.
How did you decide on UNE?
I did a lot of research, and I was accepted into other MPH programs as well, but what really drew me to UNE was the people. From the very beginning, I really connected with the people at UNE, and my experience so far has been wonderful. Since beginning the program I've earned a perfect 4.0 GPA, I have excellent relationships with every professor I have had, and I have also made a lot of connections and good friends through UNE.
UNE has a family feel to it. It feels like a close-knit community. I can reach out to anybody, and I am confident that I will get answers, and that people will treat me very respectfully. I am very happy I chose UNE over other places that I was accepted because at UNE they don't look at you like a number, they look at you like a person. That is also why I am taking part in so many activities and stepping up with so many responsibilities – I want to give back to the university and community.
Where are you in the MPH program, and what's next?
Next semester is my final semester, and then Fall is when I will do my practicum. Right now I am applying to internships at the United Nations to fulfill my practicum requirement. I have been told that no UNE student has ever completed their practicum at the United Nations before. I speak several languages and I travel a great deal so I've nearly always known that I wanted to do something on a national or global level. I have also always had a desire to join Doctors Without Borders, so after completing my residency, I hope to work with that organization.
In the next few years, I see myself working on a global platform, and I hope to use my MPH degree to go into either public administration or policy-making – something where I can bring about change on a higher level. I think we need more people who are altruistic, realistic, and who are focused on helping people at that level. I enjoy public speaking and I work well independently and with others, so I feel that getting my MPH is a good place to start.
What are you hoping to do within the United Nations if you are accepted for a Practicum there?
I am extremely open and am applying to different internships in several areas including public administration, epidemiology, program management, public affairs, and policy-making, which are the interests that I have at this time. My dream has always been to bring about real tangible change on an international platform, and an opportunity within the UN is rare and priceless.
Read more: How to Find a Public Health Practicum Site
Do you practice as an M.D. right now?
I am in the process of applying for residency right now. I have completed my licensing board examinations in Australia and Canada, and I'm in the process of completing them in America – so I have many options. I lived in Australia for about two years, and I also taught there, training doctors in the core concepts and principles they needed to pass the licensing board examinations and become registered. I have a passion for teaching, and also for helping others – particularly in my community.
Can you tell me a little about your community involvement?
I am very dedicated and committed to my education, but I am also involved in my local community, and in the medical community. I have been a national board member of a cultural committee having to do with youth involvement in the cultural arts and education, for seven years now. I am the Master of Ceremonies for our events, and I also serve as the youth coordinator.
We involve children from different cultures within the community to participate in arts and crafts and dance performances. I dance and do choreography as well. We perform several times a year with upwards of 2,000 people attending our performances.
Being involved on this board has allowed me to give back to the Madison area, as well gain the core organizational and time management skills that are required to put on a big event.
If there's one thing you would want a potential student to know before starting in this program, what would it be?
I would want them to know what their goals are. A person does not need to have a defined plan in life to be successful, but we need to understand why we are doing what we are doing. For every thought and every action, there is a logic behind it, and that logic has to be clear.
This clarity is a defining factor in the success or failure of one's journey. I think each person needs to know what they are hoping to get out of their education, and why they feel this degree is needed. If we go into ventures half-heartedly, without clarity, then our results and grades will reflect this lack of focus. If we have clarity and focus, then there is a better chance of achieving our goals.
Every person has needs. That is the basis of why we do what we do. If a person is self-aware, I think the overall experience and journey for them will be wonderful, because UNE has a lot of to offer. The program is growing and it will continue to grow. The people here are excellent, but it is our own perspective, attitude, and willingness that really influences the quality of our journey. This will be different for each person.
Any parting thoughts?
There is a saying in philosophy that our desires have to match our vibrations and our energy. If your desire doesn't match your vibrations and energy, you have two options. Either change your energy to focus on your desire and make it manifest, or let go of the desire. Make sure your energy and your focus are committed toward your desire. We have to be our own best friend.
Know your focus, because if we are not able to answer that question for ourselves, then it is unrealistic to expect that anybody else can answer it. Practice makes perfect. The more you practice, the easier it will come to you. For success in any field, dedication is a key ingredient.
You can accomplish anything. Go for what you believe in, put in your effort, and you will reach there sooner or later.
If you're interested in more information about the Graduate Programs in Public Health, please reach out to an Enrollment Counselor at 1(855) 325-0895 or via email at publichealth@une.edu.
Or, if you're ready to apply, fill out your online application at online.une.edu/gateway-portal-page.
Tags:
Graduate Programs in Public Health | Master of Public Health | Master of Public Health Spotlight | MPH | MPH Student Spotlight | Student Spotlight
---
One response to "Student Spotlight: Dr. Puneet Saini, MPH Program"