UNE Online's 2018 Portland, ME City Guide & Map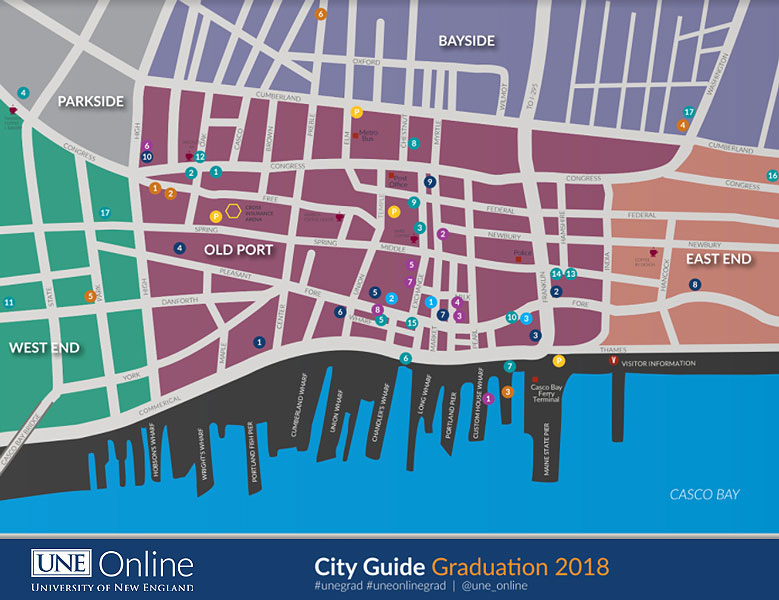 Portland is a bustling city on Maine's southern coast, renowned for its restaurant scene, a plethora of breweries, beautiful coastline and opportunity for hiking, biking, kayaking, skiing and most anything having to do with getting outdoors to experience nature.
Our team at UNE Online has curated this post with their top recommendations for what visitors should see, eat, drink and do while they are visiting our vibrant city. Other than visiting our Portland campus, of course!
Download the 2018 UNE Online Portland City Guide (PDF)
We've updated last year's recommendations and this year's map to include some of the amazing new spots that have opened up since we published last year's guide. To take a look at some of the spots we recommended in last year's guide, you can view the full post here.
We also suggest making restaurant reservations in advance where available, as Portland's restaurant scene is HAPPENING.
(Check out our team page here. Maybe you'll spot a team member who helped you on your academic journey. Be sure you say hi when you see them at graduation!)
MUST DO AND SEE:
The Maine Women's History Trail is a great way to explore the City of Portland. The walking tour was developed by a group of colleagues and students at the University of Southern Maine. — Erin Connor, Program Manager, Education
Sunset Cruise on Casco Bay Lines! — Zach York, Student Support
I would recommend anyone in town to go on the Allagash Brewing tour. You get a really great understanding of the hard work & dedication that is put into the process of making one of Maine's great beers. The tasters they give you doesn't hurt the experience either! — Jeff Nelsen, Enrollment
Two Lights Lobster Shack, The North Point, Fort Williams or Two Lights State Park — Kelsey McIntyre, Enrollment
Thompson's Point has the International Cryptozoology Museum, a brewery, a winery, and a concert venue. On Saturday, May 19th the concert venue will feature local food trucks and musicians in their Street Eats and Beats festival. — Richard Parent, Assessment
Paddle out to Fort Gorges and explore the coastline in kayaks from Portland Paddle. They have guided tours, or you can venture out on your own! — Emily Hill, Student Support
You'll definitely want to visit Fort Williams Park, Two Light State Park (a meal at the Two Lights Lobster Shack is a must), and the Old Port for some shopping. Catch the Casco Bay Ferry for a ride around the islands if you have time. Grab a meal to go from one of the many bistros and catch the three—hour Mailboat Run for a memorable picnic! If it's windy, or if you want a very relaxing ride, hop on board one of the schooners that offer rides from Old Port. The schooners allow you to bring along a picnic with celebratory beverages, too! My favorite spot is actually Bug Light Park in South Portland. This park on the harbor features the best skyline view of Portland and the harbor, complete with a lighthouse. If you want to catch a little history and a great view of the city, the Portland Observatory is fun. If high art is more your speed, the Portland Museum of Art (PMA) is worth a visit. — Elizabeth Benz, Student Support
Fort Williams, Cape Elizabeth; Spring Point Ledge Lighthouse, Fort Rd, South Portland; Mackworth Island, Falmouth; Two Lights State Park, Cape Elizabeth; Ferry rides to different islands in the bay; Walking around in the Old Port, doing some sightseeing of the old buildings, shopping, and eating; Old Orchard Beach — Heidi Lynch, Program Assistant, Applied Nutrition
Take a Ferry over to one of the Casco Bay Islands. — Linda Dyer, Administrative Assistant
Portland Head Light / Lobster Shack — Lisa Shaker, Student Support
Fort Williams! — Monique Gaudet, Marketing
MUST EAT:
Stop into Standard Bakery* for a pastry and a coffee. Take a stroll on the Eastern Promenade Trail to Fort Allen Park and take in the views of the harbor from a park bench. — Wendy DiBrigida, Instructional Design
*Allison Pray of Standard Bakery has been nominated for the James Beard Outstanding Baker award for this year!
Roma Cafe is a great spot for your post—Hooding dinner celebration! Tasty, affordable Italian dining, not far from the heart of the Old Port. — Kasey Lingley, Marketing
The High Roller Lobster Co. — Corey Butler, Instructional Design
Eat at Little Giant on Danforth Street in Portland. Their brunch is amazing! — Autumn Straw, Assistant Program Manager, Social Work
Empire Chinese Kitchen — Megan Saul, Administrative Assistant
EAT and DRINK at the Highroller Lobster Co! — Hayley Kinsella, Student Support
Have a delicious brunch at the Front Room. — Colby Averill, Enrollment
Terlingua is Latin American Food in Portland and great for food and drinks. Shere Punjab is great Indian food in Brunswick. — Donny Wright, Marketing
MUST DRINK:
Maine is home to over 100 breweries! Check out some breweries local to Portland including Bissell Brothers, Shipyard, Oxbow, Rising Tide, Allagash, Liquid Riot, Bunker, Austin Street, Foundation, Mast Landing, Yes Brewing, Good Fire, Battery Steele, Lone Pine, Urban Farm Fermentory, Foulmouthed Brewery, Geary's, Gritty's, Maine Mead Works, Sebago — Kasey Lingley, Marketing
Blyth and Burrows opened up on Exchange Street and has the tastiest and most inventive cocktails, as well as a wonderful ambiance and atmosphere. — Leah Igo, Marketing
Visit Maine's original brew pub — Gritty McDuff's. Locations in Portland, Freeport, and Auburn. — Paul Duplinsky, Research & Strategy
Lone Pine Brewery — Alaina Cellini, Research & Strategy
If you want beer, there are a TON of brewpubs around… Foulmouthed is in SoPo and is popular with my coworkers. Also in SoPo is Foundation Brewery. The East Bayside neighborhood (Fox Street and Anderson Street) have some distilleries and such. I'm a fan of Urban Farm Fermentory's tasting room. They do hard cider, kombucha and such. No food though. Maine Craft Distilling is there as well as Rising Tide Brewery. There are usually food trucks at Rising Tide. Other places to drink that are fun or interesting or innovative: Alpine Hunt Club (craft cocktails), Vena's Fizz House (craft cocktails), The North Point (wine, beer, cocktails… cute brickwork). — Susan Graham—Rent, Instructional Design
And lastly, here are a few taxi companies for your reference.
Download the 2018 UNE Online Portland City Guide (PDF)
---
Have additional questions? Reach out! We have Enrollment Counselors for every program available Monday through Friday, 8 am to 5 pm and they would be happy to speak with you. Via email owladmissions@une.edu or over the phone: (855) 325-0896.
Ready to apply? Go to online.une.edu/gateway-portal-page to start your application today!
Tags:
CGPS | Graduation | UNE Online
---