UNE named to U.S. News & World Report's 2015 "America's Best Colleges"
The University of New England is included among the "Best Universities" in the North that offer a full range of undergraduate and master's programs according to U.S. News & World Report's 2015 "America's Best Colleges" listing. UNE rose 15 spots in the top tier of this category, and is now ranked higher than it has ever been previously.
"UNE continues to focus on delivering quality education together with unique experiences that provide meaningful and proven value to our students," said UNE President Danielle N. Ripich, Ph.D. "We are pleased that U.S. News & World Report recognizes that, and our 2015 Best Colleges listing reflects UNE's commitment to delivering an outstanding return on investment."
A recent survey of the UNE Class of 2013 six months after graduation confirmed that 89 percent of UNE graduate respondents were either employed in their field or had been accepted into graduate school; another six percent were awaiting graduate school admission.
U.S. News ranking complements other national accolades UNE has garnered
Forbes: America's 2014 Top Colleges
Affordable Colleges Online: High ROI Colleges
50 Most Affordable Master's Degree Programs
Why UNE's rank from U.S. News & World Report is helpful to you
U.S. News' rankings condense a great deal of information about the quality of the education at each school they evaluate.
From the U.S. News website "Rankings are helpful to applicants because they rate the strength of the academic program at each undergraduate institution. As such, the rankings give applicants information on a key factor to consider when selecting a college.
Furthermore, the rankings are based on accepted measures of academic quality chosen after careful reporting and research on measuring quality in education. U.S. News takes pains to gather data in a uniform way and eliminate any gaps."
The data that U.S. News gathers on colleges – and the rankings of the schools that they compile from these data – serve as a guide for students so they are more easily able to compare the academic quality of schools.
Why is UNE considered a "Regional University?"
UNE's ranking is for U.S. News & World Report, Best Colleges, Regional Universities, North. To rank colleges, they first place each school into a category based on its mission (research university or liberal arts college, for example) and, in some cases, its location (North, South, Midwest and West).
Schools classified as a Regional University offer a full range of undergraduate programs and provide graduate education at the master's level, but offer a very select number of doctoral programs.
Moving forward and committed to excellence
In and of itself, being on U.S. News & World Report's Best Colleges list is not necessarily a dramatic feat. U.S. News evaluates nearly 1,800 colleges and nearly 1,300 graduate programs each year – in fact most colleges with more than 200 students are ranked. The outstanding feature of this ranking for 2015 is that at UNE we have demonstrated and received proof of our commitment to excellence by rising 15 spots in the rankings this year.
Online Programs recognition for Master of Science in Education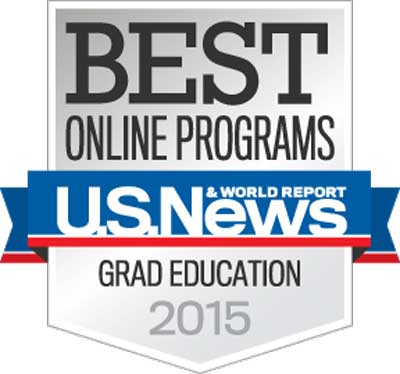 UNE's online Master of Science in Education program was recognized by U.S. News & World Report in its 2015 rankings of the Best Online Education Programs. Only regionally accredited schools that met the federal standard of 100 percent online course delivery were evaluated.
The programs were evaluated based on admissions selectivity, student engagement, faculty credentials and training, and student services and technology. UNE's online M.S.Ed program offers concentrations in career and tech ed online; curriculum and instructional strategies; educational leadership; inclusion education; and literacy education K-12.
While the 2015 rankings evaluate online programs, many of the top-performing schools, including UNE, also have physical campuses, where face-to-face contact is available to students.
Read more about our Online M.S.Ed program
Awards | CGPS
---