Health Informatics Trends – with Liz Zampino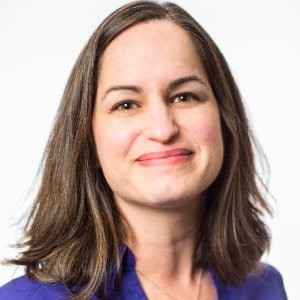 Liz Zampino is not only an adjunct faculty member at UNE Online in the Health Informatics program – she is also a long-time professional in the world of health informatics in the realm of mobile health application design and adoption. Last year she led a #HITedu Twitter Chat on behalf of UNE Online, on the topic 'Engaging Patients in Mobile Health Design.'
We sat down with Liz recently to get her take on the top health informatics trends from the largest Health Informatics conference, HIMSS.
You first went to HIMSS ten years ago when it was a fledgling event. How has it changed?
Ten years ago, a great deal of the trade show floor was taken up by Electronic Medical Record (EMR) companies. Meaningful Use, which was part of a law requiring healthcare providers to show they're using certified EHR technology in ways that can be measured significantly in quality and in quantity, was looming large. Exhibitors and attendees alike were very focused on it.
Now that the Meaningful Use deadline has passed the vast majority of healthcare providers have chosen and integrated an EMR system, and so the industry's focus has changed dramatically.
What stood out to you as new in this time around?
Vendors' methods of attracting attention have changed. I noticed telepresence robots roaming the halls trying to attract interest, so that was a change. I also found it different that some companies had live models in hospital beds, so attendees test out the vendor's equipment on live people. That was interesting, to say the least.
Anything disappointing?
I felt like virtual reality really has not come as far as I expected it to. Some companies are using it in novel ways, for example, to help treat burn patients. They put patients in a "cold world" virtual reality while changing their real-world burn dressings, which has helped lessen the patients' pain levels. Of course, with thousands of vendors there was no possible way I could visit every booth, but I feel that virtual reality has a way to go to reach its potential.
What technologies are at the forefront this year?
I'd say that Artificial intelligence, Machine Learning, and Deep Learning are the most exciting emerging technologies right now, but natural language processing has also come a long way.
What about health informatics trends across technologies?
I've noticed some really interesting things about the industry this year. First and foremost, I noticed that vendors are being more open to their platform being integrated with other platforms. They are actively trying to move away from silos, and they're being more open to having their platforms streamlined with other technologies.
Second, I noticed that companies are shifting toward being more proactive versus reactive. They are beginning to use machine learning to predict medical events, using data and predictive analytics. For example, one company that works with emergency departments is working on algorithms that predict the number of people that will be coming to the emergency department. So, what can that emergency department do to start preparing to receive and treat these people? It's helping facilities to be proactive, rather than reactive.
A third large trend that I noticed is that companies are adapting existing technologies to cater to users. A good example of this is integrating a voice assistant into a product. If a vendor creates a platform that can be integrated with voice assistant, they have found that users adopt that platform at a higher rate and with more success. So vendors are using voice assistants, and by extension natural voice processing, to virtually pave the way to better and more successful products.
Any health informatics trends that were surprising to you?
I met quite a few individuals who are getting involved in Health IT that you would not expect. That wasn't really the case ten years ago. I met bakers, merchants, and other individuals that were in fields other than healthcare or IT. For example, I met with a company who has been working in the construction environment for years, automating paperwork processing. They have a platform that scans paperwork and uploads the key information to a database. That company was there because they saw the potential of using their platform in the healthcare environment.
Payment and financial people are also getting involved in the Health IT sector, with the intent of streamlining healthcare billing and payment systems. Integration is great, and at the moment it seems like everyone just wants to put their hand in the cookie jar.
Do you have any favorite moments from the conference?
This year, HIMSS invited and sponsored a group of patients to attend the conference. That was very forward-thinking in my opinion. I believe that it's extremely important to have patients there, advocating for themselves, getting awareness out for their disease, and getting awareness around their healthcare trials and tribulations. I'd like to see more patients involved in different points of developing our health technology because I believe that their point of view on health IT can help. I'm happy that patient involvement is becoming an integrated part of HIMSS, and I look forward to seeing more of it.
I have a feeling that sometimes we may have a tendency to forget the whole point of all that we're doing. We get wrapped up in our curriculum or our projects, or whatever we're doing day to day to get through school or work, and sometimes we forget that the main point of all of this – is the patient.
Tags:
Graduate Programs in Health Informatics | Health Informatics | Master of Science in Health Informatics
---