Networking for Success: Tips for UNE Online students
Research has shown that establishing personal links through networking can give you a professional boost. Networking activities are a key tool for strengthening your position in your field and have proven to have tangibly positive career implications for participants. In this post, we talk about networking for success, how to build your networking skills, and how you can put your networking plan into action.
Expand your network – who do you know?
Networking isn't about talking to a large number of people; it's about listening. The most effective networkers are those people who take the time to delve more deeply into relationships and find out if there is opportunity to build a lasting bond.
But as an online student, what networking opportunities are available to you?
We have some suggestions:
Get connected with the UNE community on Alumnifire
Alumnifire for UNE is a grassroots networking community that we launched in 2016. It's an online professional networking and mentoring tool for UNE students, alumni, and staff. Whether you are job searching, seeking career advice, or willing to share industry expertise, Alumnifire is a great tool to use to reach other members of the Nor'easter community, make connections and build your network.
It works similarly to Facebook or LinkedIn, in that you're able to post updates to the bulletin board, job board, or community calendar. In addition, community members "offer" something of themselves, such as being available for informational interviewing, introductions, and resume reviews.
The entire purpose of this web-based networking platform is to help the UNE community connect online with one another, to mentor and coach current students and recent graduates, and to expand career connections.
Join a student organization
One such student organization is the American Public Health Association – Student Assembly (APHA-SA) at UNE. The APHA-SA is an interdisciplinary organization welcoming student members from all health programs at the university who have an interest in public health.
The chapter within UNE is part of the broader APHA-SA, a student-led organization within the American Public Health Association. Contact any of the APHA-SA officers or your Student Support Specialist for details on joining. Not in the Public Health program? Ask about professional organizations in your field.
Participate in Fireside Chats
Not limited to only public health students, UNE Public Health Fireside Chats are a forum for students and professionals to informally consult and discuss issues related to hot topics within public health, to share about challenges and victories working in public health, and to build community as students at UNE.
The popular Fireside Chat series is hosted by the APHA-SA. For more information and login information, once again, reach out to any of the APHA-SA officers or your Student Support Specialist for details.
Office hours
One of the most powerful resources in an instructor-led learning environment is office hours. We encourage you to reach out right from the beginning of your course and make an effort to communicate with your instructor at least once a week. Office hours are one of the most valuable learning tools we offer.
Office hours are regularly scheduled times each week when students can meet with their instructor. In an online learning environment, office hours can be held in a variety of different formats – a phone call, chat, video chat, group video chat – any mode of communication, really.
Online office hours can take on a variety of different formats. Some students show up and simply listen to what questions their classmates may have. It's not uncommon to have four or five students in an office hours session, exchanging ideas and talking through problems. It's also not uncommon to show up and have the opportunity for one-on-one instruction from your instructor.
Even more information on the benefits of participating in office hours can be found in the Vision Blog post, Online Office Hours – How To Use Them To Your Advantage.
Work on building your community as an online student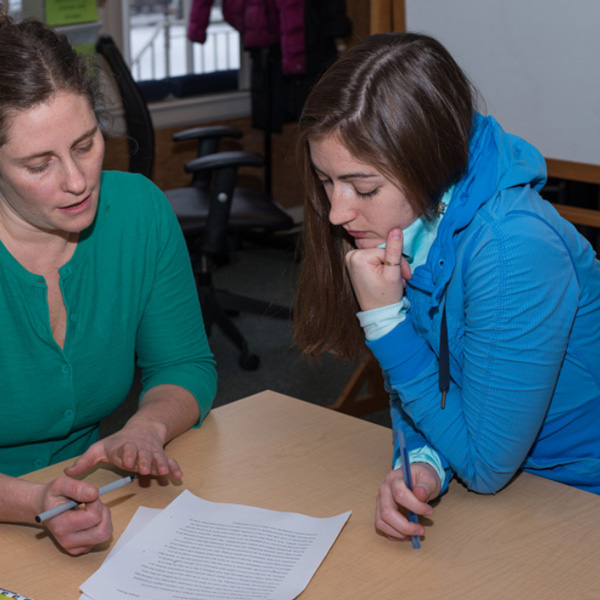 Getting an online master's degree is far more than sitting in front of a computer. To get the full value out of the experience, you need to go deeper – real engagement involves becoming a part of the community of learners. In fact, research supports the development of community in online education as an important factor for maximizing student satisfaction with the experience.
This study has shown that there are five key peer-to-peer interactions in online learning that are most predictive of a sense of community. They are introductions, collaborative group projects, contributing personal experiences, entire class online discussions, and exchanging resources.
To read more about how UNE Online faculty and instructional designers implement each of these interactions within our UNE Online courses, what our programs' faculty members are doing to facilitate these experiences, additional steps students can take to build their online community, and for more information and tips on building your community as an online student, see the Vision Blog post Finding Community in Online Education.
Need help networking for success?
In many cases, your classmates are your first network in your chosen field. Because your current classmates are likely to become your future colleagues once you've graduated, making connections within your courses is an effective way to kickstart your network.
If you find that you need help getting started, or with finding additional networking opportunities, reach out to your Student Support Specialist. They can help refocus your search for deeper connections – because even if you are well-established in your job and have no plans of moving or advancing your career in the short-term, networking has proven to be a valuable tool.
---
Not already a UNE Online student? To learn more about our online degrees and certificates, download the guide to our online graduate programs:
Have additional questions? Call us at (855) 325-0896 – our phones are staffed Monday through Friday, 8:00 am to 5:00 pm EST. Alternatively, reach out to owladmissions@une.edu, or via chat on our website online.une.edu.
Ready to apply? Go to https://go.une.edu/apply to start your application today!
Tags:
networking | UNE Online
---
One response to "Networking for Success: Tips for UNE Online students"