Faculty Spotlight: Mary White, LCSW – Social Work Program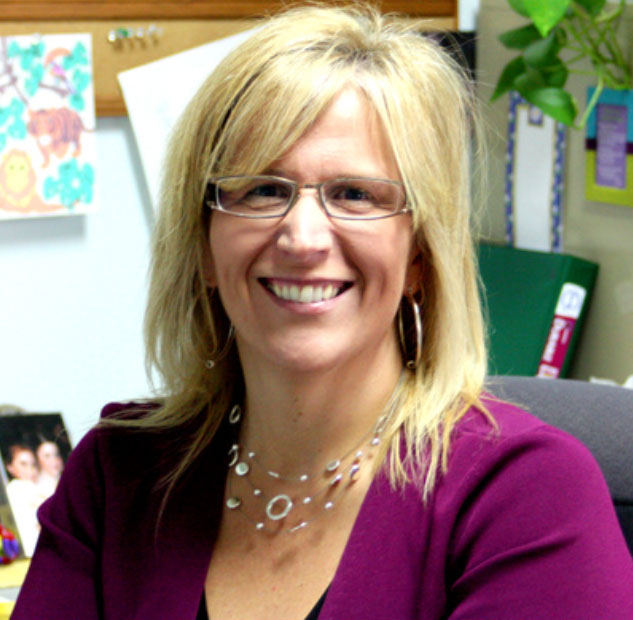 Mary White, LCSW, is a Field Planner and Clinical Assistant Professor for the Master of Social Work program at UNE Online.
She graduated with a BA in Behavioral Science from the University of Maine in Presque Isle and earned her Master of Social Work from the University of Maine at Orono.
For 18 years Mary was employed at a community mental health center working in both clinical and administrative social work, in charge of a staff of 100+ people. She also worked for four years at a high school, providing support and social work services to approximately 500 students. She has been working full-time for UNE since June of 2011.
Prior to her full-time position with the University, she was an adjunct faculty member and had the opportunity to teach many courses in the social work curriculum. Her particular areas of interest are poverty, women and children issues, and trauma.
Can you tell me a little bit about your background?
Working with people who have mental illnesses is a lot of where my passion lies. And in fact, most of my experience throughout my entire career has been either working clinically or administratively with people with serious and persistent mental illness.
Another passion of mine is the cycle of poverty, and understanding how it impacts people. I have a deep interest in understanding generational poverty, how the barriers that people encounter when they grow up poor automatically put them at a disadvantage, and how to break that cycle.
A lot of my interest lies in health disparities – learning about the differences between the health of different populations, including among the truly mentally ill and the poor. Because if you are poor, you can't afford to get sick.
What drew you to teaching at UNE?
Around 2000, UNE had a satellite office in Presque Isle, near my home. I knew a few of the on-site faculty there in a professional capacity, one of whom reached out to me at one point and asked if I would be interested in teaching one of the classes on campus. Well, of course, I said yes – and so that was my first experience teaching at the University of New England.
I taught in the UNE Presque Isle location for almost two years, until the program left and there was no longer a satellite office there. A few years later, when the University was working to develop an online MSW program, they approached me once again to see if I would be interested in teaching – this time online.
It was the perfect storm, really. They had a need, and for me the timing was impeccable. So that's how I started teaching online! The first online course I ever taught was an ethics course. From there I stayed on and taught several subsequent classes as an adjunct instructor, eventually moving into a full-time position, working with students to help facilitate their fieldwork experiences. Because my whole professional career up to that point had been "in the field", I was able to draw on and apply my depth of experience. It ended up being a great fit– I started working in the field aspect of the program in 2007, and that's what I do to this day.
In your teaching, how do you foster a sense of community among your online students?
Being involved makes the biggest difference in feeling connected to others in your course. I find that there is a common misconception about online courses. People think that because the courses are online, the content is easier, or that they can hide and get by with minimum participation effort. In an on-ground class, if you don't want to participate, you can sit in the back of the class, your eyes can be down, you can stay disengaged, and there's a possibility that the instructor won't call on you that day. There's none of that in an online class. In the online world, there is no hiding. Each and every student must participate in, and are graded on, discussion board posts and responses to others' posts. Spelling counts, and so does depth and the level of engagement that you show with other students.
As an online instructor, I can tell when there's a student that's not participating. The online format essentially forces students to be more active. On-ground, some people can tend to get lost in a bigger classroom, but online they can't get lost or overpowered by a more vocal student. If they don't participate, I'm going to be reaching out to see what's going on. I find that it makes students more accountable, and instructors more accountable, to the learning process. Because as an instructor, if someone isn't participating in class, then it's on me to reach out to the student, to maybe get their Student Support Specialist involved if necessary to see what's going on, if they need assistance, etc.
Another way I build a sense of community among my online students who are doing fieldwork is through the frequent use of video. Students submit a short video each week, and instructors submit videos in response. I feel like using a medium like video lends itself to people feeling like they get to know you a little bit more than if you rely solely on the written word.
How do you feel that you prepare your students for the real world?
I share examples a lot, particularly in the field classes, because that's really where the rubber hits the road. Students are in their field placements, and every week they share a video about what they're doing, or what they're learning, or any ethical dilemmas they've come across. So I'll often use the discussion boards to give feedback on those specific issues. I also share real-life examples from cases from my own clinical past that may illustrate a point particularly well.
In my courses, I stress the importance of accountability, professionalism, mindfulness, and ethical behavior, especially in their fieldwork. For example, if I see a student slipping into a casual attitude during their five-minute weekly videos, I'll give them feedback to address that. As a social worker, it's very important to be perceived with a high degree of professionalism.
Additionally, I review all of my students' resumes and give them individual feedback. I talk to them and learn what their individual interests are, and I get to work with them on their field placements. Sometimes students – particularly graduate students – need to be encouraged because they're so busy. They tend to gravitate toward what they are comfortable with. That's when I take the opportunity to look at their work history and interests, to encourage them to pursue a field placement that's out of their wheelhouse, and out of their comfort zone. A field placement is really a time to learn new skills and to work with different populations. It's the ideal opportunity to try something new, or work with a radically different population – so you know for the rest of your career what you might want to try.
What do you feel sets the UNE Online Master of Social Work program apart?
I feel that the field placement aspect sets UNE apart. We are incredibly active with our students, and we really work hard to ensure that they push themselves, that they stick their toe into new waters, and that they don't settle.
We offer a lot of support and a lot of outreach if a student happens to miss an assignment. But because we are social workers, and because we are often adult learners, we also come from a place of understanding. People who are in graduate school are single moms or are working two jobs. They're doing this to try and better themselves. But obviously, life still happens while you're in grad school. Most of our faculty are social workers so we tend to empathize, and we go deeper than surface level. We really care about our students.
What do you like best about working with UNE Online students?
In this program, I love that it's something new all the time. I get to meet students from all over the world. That's pretty cool! I've worked with students in several different countries, all over the globe. Recently I had a student who did his field placement in a small African village. Every week he would post his five-minute video, and every week he would have someone different from the village join him. I find it fascinating to really see how far social work can reach!
I've lived in Northern Maine my whole life. Personally, when I think about social work, that's my lens because that's all I've experienced. But because I now work with people all over the world, I now get to see what social work is like in California, Nevada, Guatemala, Cambodia, and Germany, among many others. I get to experience facets of social work that I would never have otherwise had the opportunity or access to.
In an online environment, there are no barriers. I love that.
---
If you are interested in pursuing your Master's in Social Work, or even if you're simply interested in discussing the program, please reach out to an Enrollment Counselor at (207) 221-4143 or via email at socialworkonline@une.edu.
Interested in applying to UNE Online? The sooner you apply, the sooner you hear back. Fill out an online application today at online.une.edu/gateway-portal-page – we look forward to hearing from you!
Master of Social Work | MSW | MSW Spotlight | Social Work
---