"It's All Public Health" Podcast
Past UNE Professional Development Events
Effective Grant Writing for Health Professionals
Financial Management Session 1 – Financial Management, Organizational Goals, and Terminology
Financial Management Session 2 – Types of Budgets and Budget Processes
Financial Management Session 3 – Performance Management
Noteworthy Training Session
Best Practices in Public Health Communication to Promote Equity and Inclusion
Featuring UNE faculty, Jennifer Ceide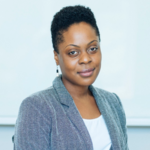 Jennifer Ceide has worked in the field of public health since 2009. Her work has focused on program planning and health education for a variety of communities and professionals in the areas of asthma and tobacco treatment. Her undergraduate and graduate degrees are in public health with concentrations in education and communication. She is excited to be working in workforce development and plans to bring creativity and innovation to the field through interdisciplinary collaboration.
As the Assistant Director of Public Health Workforce Development, Jennifer is focused on addressing public health workforce gaps and trends by creating professional development opportunities for graduating students, alumni, and public health professionals.
If you have any questions about the coursework or the program requirements, please speak to one of our enrollment counselors at the email or phone number below.